Ben Foster: 'Relaxed' mood under Hodgson key to England return
Last updated on .From the section Football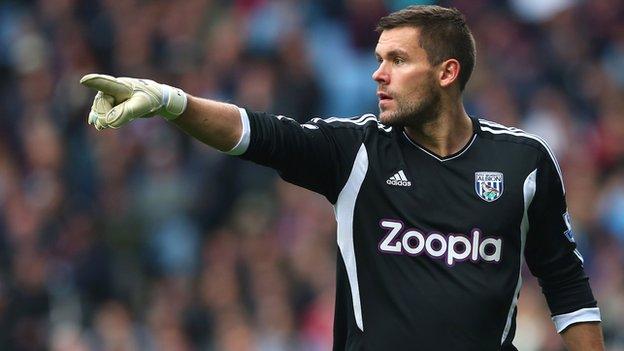 West Brom's Ben Foster says the more relaxed atmosphere under Roy Hodgson contributed to the keeper's decision to end his international exile.
"It was very, very serious with Fabio Capello," said Foster, 29.
"From talking to a few of the lads, since Roy took over he's so much more relaxed. Under Fabio it seemed to be a little bit too negative."
Hodgson managed Foster when the England boss was at West Brom and the keeper admitted that had been a "big draw".
"I know what Roy is about, he has brought that factor of wanting to be there. Roy has brought a lot more optimism and the lads seem really happy to be called up and be involved now," said Foster, who won the last of his five England caps three years ago.
"[During Capello's reign] we weren't allowed to go out of the hotel and we weren't allowed visitors.
"I was playing with a lot of niggles and my kids were born around that time as well, so they were about one and two - it was hard for me to go away for a week or 10 days and not see my kids or family.
"It was too much of a big miss."
Former Manchester United and Birmingham keeper Foster announced in 2011 he was taking a break from international football for an indefinite period, but is now available for next month's World Cup qualifiers in San Marino and Montenegro.
England coach Hodgson tried to persuade the Baggies keeper to perform a U-turn last summer for Euro 2012, but the player declined.