West Ham closing on Olympic Stadium deal - David Gold
Last updated on .From the section Football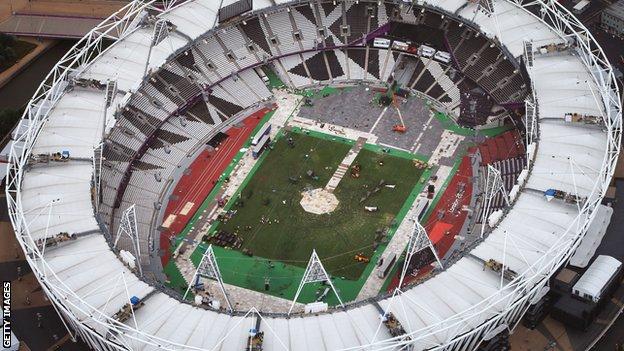 West Ham co-owner David Gold says a deal for the club to move to the Olympic Stadium could be agreed as soon as 16 March.
"I think we're close. It's only what I'm being promised. As we speak I'm being promised 16 March," Gold told talkSPORT.
"We would sign the agreement then."
The LLDC board - which preferred West Ham to League One side Leyton Orient, UCFB College of Football Business and a consortium linked to Formula 1 - is set to meet on 26 March.
But an extraordinary general meeting could be called if agreement over the £429m venue is reached before then.
Gold added: "I'm embarrassed because I've tweeted 10 times that it's going to be next week or next month and here's a date.
"The date comes and goes and then I give another date. But I think we are close."
Negotiations with the LLDC included talks on West Ham's share of the costs of converting the London 2012 venue.
Retractable seating is set to be installed for West Ham matches and Gold said: "We will only go there if it is fit for use.
"I won't go there if I have to look over a running track. But I believe we are in a once-in-a-lifetime opportunity. Let's face it. They've built a stadium - albeit wrong shape and size."