AFC Bournemouth: Eddie Mitchell explains redundancies
Last updated on .From the section Football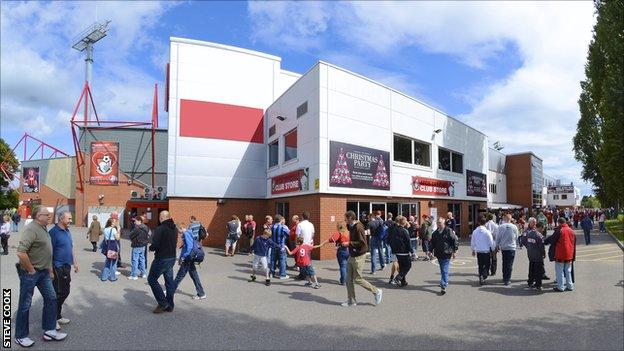 Bournemouth have made several staff at the club redundant, but co-owner Eddie Mitchell says it is down to restructuring rather than cost-cutting.
The staff who were let go include commercial executive Tom Jeffes and media manager Mick Cunningham.
There have also been redundancies in the events and hospitality departments.
"We are spending our finances wisely," Mitchell told BBC Radio Solent. "But if we need to re-structure staff then that is what we will do."
The Cherries are co-owned by Russian Maxim Demin as well as local businessman Mitchell.
They currently have one of the largest playing squads in League One with more than 30 players on their books and are chasing promotion to the Championship.
However, Eddie Howe's side have lost their last four games and slipped from top to seventh.
But Mitchell, who also defended the size of the club's squad, says there is no link between the recent poor run and Monday's redundancies.
"We are embarking on a new venture and are serious about going forward to the next level," said Mitchell.
"What has happened on the pitch is irrelevant to our aims. I leave what happens on the pitch to Eddie [Howe] - all I've got to do is structure the club in a way that stands the best chance of going forward and that is what I've done.
"People don't know what I pay the players. We have players who earn a lot less than you would imagine. Consequently, we are not extravagant with our finances and we want to take the club further forward."
As well as investing heavily on the pitch, the club have recently built new training pitches near their stadium in Kings Park and improved facilities in and around their Dean Court home.
And Mitchell insists the investment would continue.
"We are embarking on new ventures," he continued. "We hope to expand the club shop in the next few weeks. We are developing the car park which is all part of structuring the club for the future.
"We've got to watch every penny like everybody else and we have to spend it wisely, so if restructuring is what we think is best then that is what we will do. We won't shy away from saving a penny for the club because it is my responsibility to use our resources in the best way."
Among those made redundant was the popular and long-serving employee Cunningham.
And while Mitchell refused to talk about individuals he did say the decisions were hard to make.
"I'm not prepared to talk about individuals - it's not fair on them or the club," he added.
"Losing people who have become friends is never easy but my job is not a particularly easy one and if I've got tough decisions to make then I will make them, if it is in the best interests of the club."