Liberia mourns ex-striker Seator
By Julius Rennie Ledgerhood
BBC Sport
Last updated on .From the section Football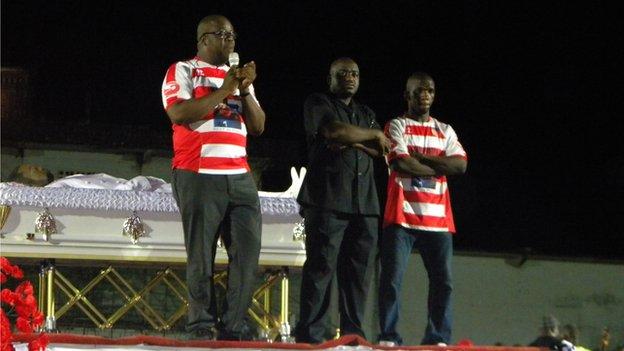 Liberia Football has been mourning the passing of Frank Seator, one of its best known former international strikers.
Seator died, aged 42, in Monrovia a fortnight ago.
A mammoth crowd of football fans including the country's President Ellen Johnson-Sirleaf turned out at the burial ceremonies for the fallen striker.
"Frank lived an exemplary life that our young athletes should emulate. He was disciplined and purposeful," lamented President Sirleaf.
"After football he knew it was time to begin a new career and was well on his way to achieving that quest - we'll miss him."
During his career, Seator helped Liberia qualify for its second Africa Cup of Nations in Mali in 2002. while the side narrowly missed out to Nigeria in qualification for the World Cup in Japan and South Korea that same year.
Remembered by fans for his aggression and power, Seator plied his trade mainly in Asia with clubs in Kuwait, Qatar and Indonesia, but also had brief spells in Sweden and Hungary.
Political life
The former striker returned home in 2011 to assist the Liberian President win her second term, earning victory against Seator's former team-mate George Weah.
He publically campaigned with President Sirleaf throughout Liberia, garnering votes from many of his young fans to help secure her re-election. This role earned him a political post at the country's Maritime Authority where he served until his passing.
Though Weah is out of Liberia, his Congress for Democratic Change Party (CDC) expressed his profound grief over Frank's passing.
"We are equally saddened and shocked over the passing of our colleague and team-mate. George would have been here had he not had an international engagement at the moment."
Joe Nagbe, former Lone Star captain and a staunch member of CDC remarked: "Frank was a brother; we held no grudge against him for not supporting us during the elections."
Frank had been involved with the Liberia Football Association, as a key member of the LFA National Mobilization Committee, mentoring the younger generation of Lone Star players.
His passing has sparked a public debate about the recognition of Liberia's well-known former stars, most of who are retired and living at home with little roles in the country's football set-up.