Hayatou to run unopposed in Sunday's Caf elections
By Piers Edwards
BBC Sport
Last updated on .From the section Football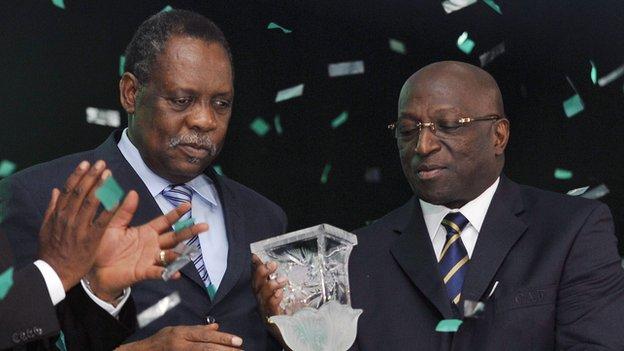 The Court of Arbitration for Sport has rejected the final appeal by Ivorian Jacques Anouma to be able to contest this weekend's Confederation of African Football (Caf) elections in Morocco.
The decision means incumbent president Issa Hayatou, in power since 1987, will run unopposed in Marrakech on Sunday.
"I am awaiting the details from my lawyer but the news is not good," Anouma told BBC Sport on Tuesday.
Anouma was barred from voting after Caf changed its statutes last year.
In September 2012, the amendment only allowed voting members of Caf's Executive Committee to contest the presidential elections.
Anouma sits on Caf's executive committee but only because he serves as one of the continent's representatives on the Fifa executive.
Although the 61-year-old attends Caf meetings, he does not have any voting rights.
"The Cas panel ... decided to dismiss the appeal of Jacques Anouma; broadly following the reasoning of the Caf Executive Committee, whose jurisdiction to decide the contested decision was recognized by the Cas," read a statement from the Switzerland-based legal body.
"Thus, it was confirmed that the Caf Statutes adopted in September 2012 were applicable in assessing the validity of the candidates in the presidential election and that Anouma did not meet these criteria because he had never been a member [of] the Caf Executive Committee."
Anouma's forced exclusion means that Hayatou is set to extend his reign as Caf president to 30 years.
Having taken charged in 1987, the Cameroonian will finish his reign in four years' time - having said that this will be his final term in office.
This is the fourth case that Cas has rejected challenging the change to the Caf statutes after two previous challenges lodged by the Liberia Football Association.