Nigerian FA seeks cash to host World Cup qualifier
By Oluwashina Okeleji
BBC Sport, Lagos
Last updated on .From the section Football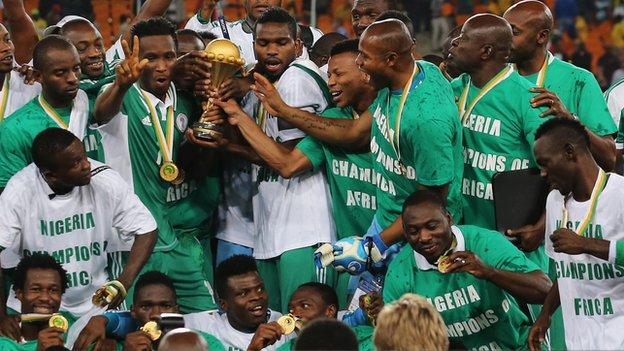 The Nigerian Football Federation (NFF) is desperately seeking financial aid ahead of their 2014 World Cup qualifier against Kenya this month.
The NFF will need about $610,000 to ensure the fixture goes ahead on 23 March in Calabar.
According to the NFF spokesman Ademola Olajire, officials are confident this situation should be sorted soon.
"We're expecting our March funds from the sports ministry, hopefully we'll get it soon," Olajire told BBC Sport.
"It's true that we spend around this amount for any of our qualifiers.
"Financially it has been tough but our sponsors and partners tend to come to our rescue, we are confident that will be the case."
This latest setback comes at a time when is it being reported that the football authority has yet to pay Super Eagles players their bonuses for winning the African Cup of Nations last month.
Players were promised $20,000 each for a win against Burkina Faso in the final.
The NFF, which receives its funding from the Nigeria sports ministry, has acknowledged the debts owed to the players but says they will have to be patient.
"We have reached out to the team, telling the players that we are waiting for some payments from our sponsors," Olajire said.
"Hopefully when these payments are remitted it will help redirect the financial position of the federation.
"There's no rift with the players or the coaches, they understand the financial situation of the football house.
"Everything should be over soon but one thing I can guarantee is that the players will get it because they earned it."