Leicester City: Sven-Goran Eriksson denies reckless spending
Last updated on .From the section Football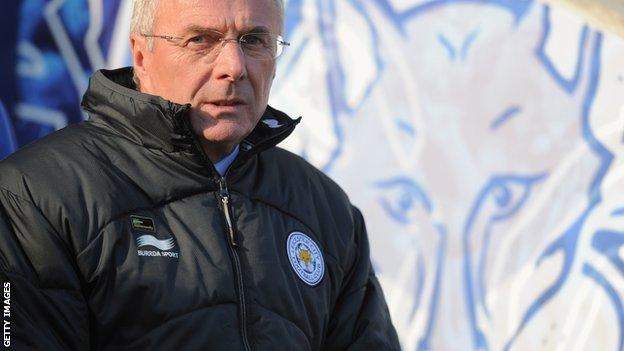 Former Leicester City boss Sven-Goran Eriksson insists he is not to blame for near £30m losses announced by the club.
City paid large fees and sizeable wages for a number of players, including Matt Mills and Jermaine Beckford, during Eriksson's year in charge.
But the former England manager told BBC Radio Leicester: "I never dealt with money at all."
He continued: "I selected the players which I thought the club should go for and then it was up to the club secretary and the owners to do it, or not do it."
The Swede was appointed City manager in early October 2010 and, backed by the financial muscle of the club's Thai owners, he was able to make a number of additions to his squad.
These included Mills from Reading for £5m, fellow defender Sean St Ledger from Preston, striker David Nugent, midfielder Neil Danns, and goalkeeper Kasper Schmeichel for an undisclosed fee from Leeds United.
However, a poor start to last season led to Eriksson, who is now technical director of United Arab Emirates side Al Nasr, leaving the club by mutual consent.
"The owners wanted promotion," he said. "That was the whole thing to get to the Premier League as quick as possible and that was the understanding of everyone involved trying to get in players.
"My and my staff's job was to find players. To finalise the deals, that was not my job at all. I was never involved in any deals at Leicester.
"If you ask me today how much money those players were on and how much it cost to buy them I have no idea."
He added: "I made it very clear to them that I can find players for you and you do the deals. You do them or you do not do them.
"We did some very, very good deals. I am not talking about money, I am talking about players. And we did some deals which didn't go as well as they should have done - I agree with that.
"I suggested a lot of players and then it was completely up to them if they wanted to do it or not."
The club declined to comment when contacted.