Home Nations set for 2013 Cyprus Cup openers
By Tony Leighton
Women's football reporter
Last updated on .From the section Football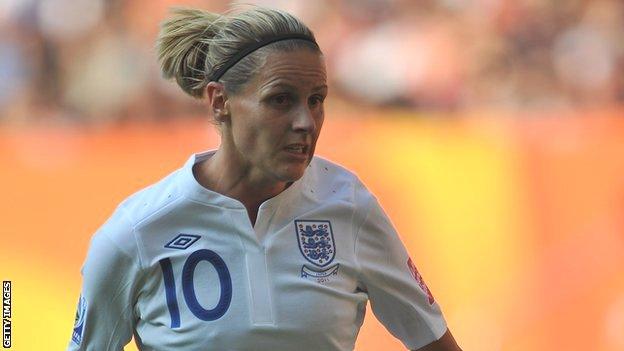 England begin their build-up to July's Women's European Championship finals on Wednesday, joining Scotland and Northern Ireland in playing their opening Cyprus Cup games.
In Group C, Northern Ireland face rivals Republic of Ireland.
The 12 teams at the Cyprus Cup are split into three groups, playing in a round-robin format.
Only teams in Group A and B are in contention for the title, with the Group C winner facing the better third-placed team from Groups A and B in a tie which will decide fifth place overall.
A victory on Wednesday would set England up nicely for group games to follow against Scotland and New Zealand.
Four years ago England topped their group in Cyprus and then won the final against Canada before finishing runners-up to Germany at Euro 2009 in Finland.
"Winning the Cyprus Cup in '09 kick-started a great run for us and really spurred us on to perform well at the Euros," said England and Arsenal striker Kelly Smith, who is set for her 112th cap.
"It helped give us the winning mentality that took us all the way to the Euro final, and it would be great to think we could do it again."
Wednesday's game will also give Hope Powell's team the chance to avenge last year's 3-1 defeat by Italy in the Cyprus Cup's bronze medal match.
Smith, who made her England debut against Italy in 1995, missed out on that game in unusual and painful circumstances.
"I'd broken my leg without realising it in the previous match against France," she added.
"I broke down in the warm-up to the Italy game and had to watch from the bench before getting my leg fixed.
"We didn't play particularly well that day and we'll have to perform better if we're going to get the result we want this time."
Scotland, meanwhile, are looking to recover from the disappointment of losing their Euro 2013 qualifying play-off final to Spain in stoppage time.
They have just returned from the United States, where they lost both of their friendlies against the world's top female side.
Scotland manager Anna Signeul said: "We are in very upbeat mood going into the Cyprus Cup.
"Although we lost twice to America last month, the girls performed well - especially in the second match."
Meanwhile, Northern Ireland's fixture with the Republic of Ireland has the potential to be a feisty affair.
The two have not faced each other competitively for over nine years and Northern Ireland manager Alfie Wylie said: "It's a needle match and the girls are really up for it.
"It's the first competitive game we've had against the Republic for nine or 10 years, although we've had a few friendlies in the meantime.
"They've usually got the better of us and they'll be favourites again in this match, but we see it as a great challenge."