Swindon Town: Nick Watkins quits as chief executive
Last updated on .From the section Football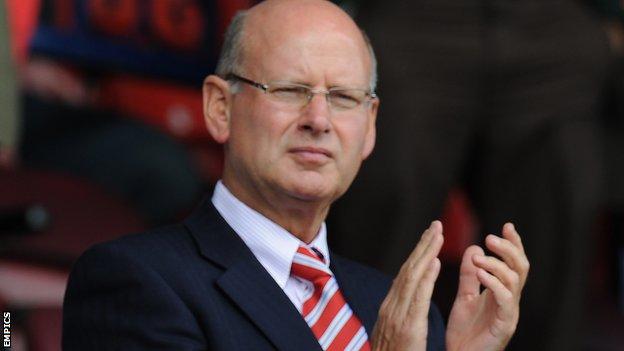 Nick Watkins has stepped down from his role as chief executive at Swindon Town with immediate effect.
He was appointed in January 2008 following a successful takeover by former owners Sir Martyn Arbib, Andrew Black and Andrew Fitton.
Watkins agreed to leave his post after the club were sold on again, this time to a consortium led by Jed McCrory.
"I am relieved and delighted that the club has been able to secure new owners," he said.
McCrory's group assumed full control on 21 February.
"I wish Jed McCrory and his team every ounce of success going forward," Watkins told the Swindon Town website.
"I have thoroughly enjoyed each single minute of my five years with the club and I shall remember my time here with great affection.
"I have been privileged to work with a great team of people, and I am proud that I can hand to the new owners, a club that is in peak condition.
"To the staff, sponsors, suppliers, and the fans, I would like to express my genuine and very sincere gratitude for your friendship and support. "