Women's football: MK Dons Ladies aiming to join elite
Last updated on .From the section Football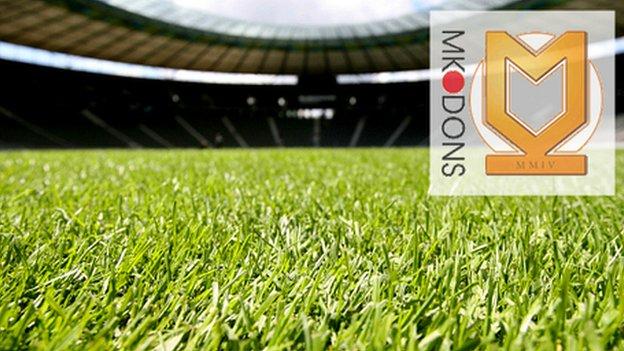 MK Dons Ladies are hoping their application to join the women's UK football elite will be given the go-ahead by the Football Association.
The Dons have applied to be part of an expanded FA Women's Super League to start next season.
Club director John Cove said: "It would be an appreciable step-up, but very important in the continued development of women's football in the region."
The FA has received 33 applications and will choose the best 20 in June.
MK Dons Ladies currently play in the South East Combination League, the third tier of the women's game, but are hoping to join an expanded Women's Super League in the second division.
Cove, who is also chief executive of the club's Sport and Education Trust (SET), told BBC Sport: "We are hopeful of success because inclusivity is one of our most important priorities as a football club.
"For example, as well as our women's teams, we also have 16 disability teams, and every player is a registered MK Dons player in just the same way as the members of Karl Robinson's League One squad.
"We're also one of the 33 areas with an FA women's centre of excellence and geographically, we're an important catchment area."
He acknowledged the cost of running a Super League team is likely to run into six figures, only partially off-set by a grant of £30,000.
"Clearly becoming much more professional would involve a considerable increase in costs but we would not have applied if we did not believe it to be a sustainable concept," he said.
"Even if we are not successful this time around, we will keep running the club in such as way as to ensure it will be in an even stronger position when the next opportunity to apply arises."