Dunfermline face survival fight, warns Jim Leishman
Last updated on .From the section Football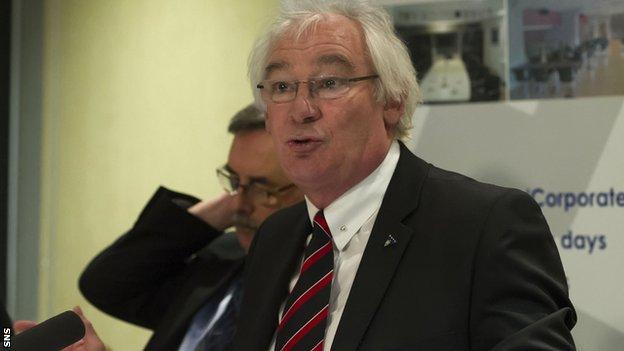 Dunfermline Athletic could be out of business within three weeks, a steering group that is advising the financially stricken club has warned.
Jim Leishman is leading the group as the Pars plan to press ahead with a share issue aimed at raising £500,000.
"The next two to three weeks will decide what kind of future the club has," said former player, manager and director Leishman.
HM Revenue & Customs are owed £134,000, with a payment due on Friday.
Dunfermline players have complained to the Scottish Football League about several instances of late payments, with some still waiting for half of their most recent salaries.
And the Scottish FA has issued a notice of complaint to the Fife club for failing to pay Hamilton its share of gate money for a Scottish Cup tie on 2 February.
Despite stepping down from the board, Gavin Masterton remains majority shareholder at East End Park.
However, Leishman is adamant Masterton has relinquished all involvement in the day-to-day running of the First Division club.
"We haven't got much time on our hands," Leishman told BBC Scotland.
"It's quite critical but some see light at the end of the tunnel.
"The survival of the football club is our only objective.
"At the moment, we've got different organisations trying to achieve the same objective, we need them all to pull together.
"We have to give the players confidence in what we are trying to do and give the fans confidence because they are hurting.
Donald Adamson from supporters group Pars Community stressed that he was pleased to hear of Leishman's involvement and wants to see fans become more involved in ownership.
"The share issued talked about by the current owner [Masterton] is not one we can support," he explained.
"We believe relevant information needs to made public. A good start would be the 2012 audited accounts.
"We would be prepared to put cash into a new model if one was there but only if it was for the long-term.
"We don't want to get into a situation where ourselves and other innocent parties put money into the club only for it to be lost in short order."