Wayne Rooney's Manchester United future called into question

By Phil McNulty
Chief football writer
Last updated on .From the section Football630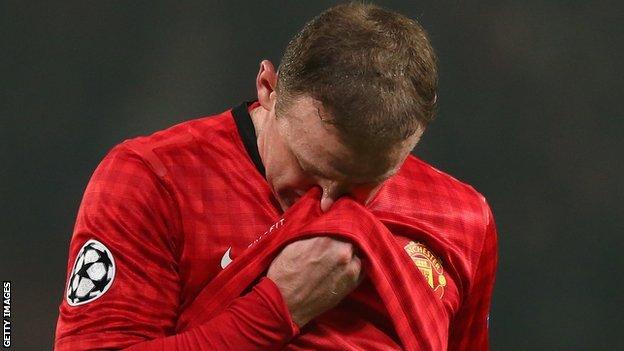 The wheel has turned full circle for Wayne Rooney. He once doubted whether Manchester United were good enough for him - now the question is whether he is good enough for Manchester United.
It was in October 2010 that Rooney left United manager Sir Alex Ferguson "dumbfounded" by announcing he wanted to leave Old Trafford, suggesting fears about the strength of the squad and the club's ability to attract world-class players were at the heart of his decision.
Rooney will have been equally dumbstruck when Ferguson revealed at a squad meeting ahead of the Champions League defeat against Real Madrid that he was surplus to Tuesday's requirements.
Adding irony to Rooney's injury is that it was the arrival of the sort of world-class player he craved, in the shape of Robin van Persie, that will have made Ferguson feel more comfortable in pushing the England striker to the margins.
Ferguson hinted at fitness issues amid ongoing concerns about Rooney's condition. It was a subtle reference but not necessarily a flattering one.
United were also playing to a tactical framework that the Scot felt would be more suited to Danny Welbeck - a plan, it should be stressed, that was working perfectly until Nani's 56th-minute red card unnerved and unsettled United to such a degree that Real were able to turn the game around.
This, in itself, poses serious questions about Rooney's status and his future at Old Trafford.
It was not so long ago that the idea of Rooney being left out for one of United's biggest games for years would have been unthinkable, irrespective of any questions about his fitness or any gameplan Ferguson was planning to employ.
Rooney was also fit enough to make an outstanding contribution to United's 4-0 win against Norwich City just days before he was a substitute against Real Madrid, scoring a brilliant goal and setting up others for Shinji Kagawa.
At one time, he was as close to indispensable as it was possible to be at Old Trafford. Not any more, after Ferguson's decision to drop him from a game of such scale as one against Real Madrid.
The question now is whether Ferguson, as he has done before, is preparing the ground to dispense with Rooney on a permanent basis.
A measure of perspective is required. Rooney may not be the player many thought he would become when his career was in its electrifying infancy with Everton, Manchester United and England but he is still a formidable talent capable of moments of game-changing brilliance.
Not the force he could have become perhaps - but no busted flush either.
The statistics still stack up for Rooney. He has scored 12 goals in 26 games this season and added 12 assists. According to statisticians Opta, his scoring and assist rate of 0.92 per Premier League/Champions League game is equal to his best.
His overall tally since moving to Old Trafford in 2004 stands at 166 goals in 343 games, while he has scored 33 times in 79 England internationals.
This is why any decision to sell Rooney will be taken only after careful contemplation, but the signs are ominous for those, probably including the player himself, hoping he will have a long-term future with United.
Ferguson has history for using exclusion from a showpiece game as the final warning signal. As far back as dropping Jim Leighton, the trusted goalkeeper he brought from Aberdeen to Manchester United, from the 1990 FA Cup final replay against Crystal Palace through to David Beckham being left out of a Champions League game against Real Madrid in 2003 and onto Ruud van Nistelrooy being omitted for the 2006 League Cup final, a pattern emerges. Exclusion followed by departure.
And could it be that Ferguson's elephantine memory still recalls those uncertain days in 2010 when Rooney uttered the truth that dare not speak its name at Old Trafford, or to his manager, when he appeared to question the club's ambition and the quality of his colleagues?
All this could simply be building up to another bad day for Chelsea's interim manager Rafael Benitez in Sunday's FA Cup quarter-final, with the prospect of a wounded Rooney being released to work out his frustrations on Ferguson's old adversary.
But no-one should play down the significance of Rooney being sidelined for such a high-profile Champions League game.
Rooney is on a reported £250,000-a-week contract at United, awarded in the wake of his public insubordination in 2010 and is 28 in October. The £50m valuation talked about at that time can be halved now but might still be enough to tempt United to do a deal.
Ferguson has been linked with Borussia Dortmund's Robert Lewandowski, although Bayern Munich may have something to say about that, and he also has Van Persie, Javier Hernandez and Welbeck to call upon.
Further complications also lie along the road that may lead to Rooney's departure. The list of clubs he would regard as a comfortable fit for his talents is a very select one - and the number of clubs who feel they might actually wish to buy him may be even more select.
Paris Saint-Germain have been strongly linked with Rooney but would he want to play in the French league and would even their Qatari owners sanction such a high-finance deal in his current circumstances? They would want a rich return on this expensive investment as it would not be a short-term branding exercise such as the signing of David Beckham.
It is doubtful Manchester City or Rooney would pursue a move to Etihad Stadium, even though they expressed great interest when he was unsettled previously. It is hard to see Real or Barcelona showing any desire at all to do a deal, while the chaos of Chelsea makes this an unlikely destination.
Rooney's best option is Manchester United. Whether Manchester United regard Rooney as their best option any more is open to question - and it was an option Ferguson felt he was able to ignore against Real Madrid.