Paolo Di Canio managed 'by hand grenade', says ex-Swindon chief
Last updated on .From the section Football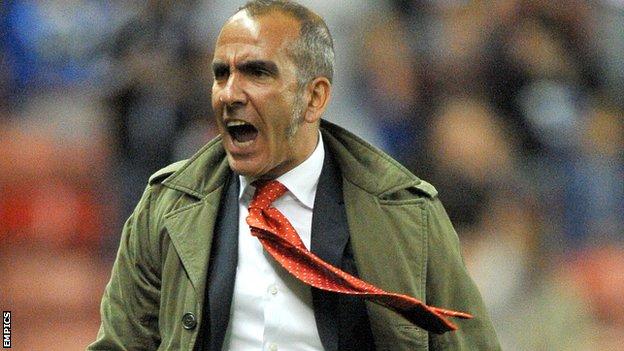 Ex-Swindon chief executive Nick Watkins has called former boss Paolo Di Canio's tenure "management by hand grenade" but remains disappointed he quit.
Di Canio resigned as Town manager last month, citing "broken promises" from the board after the sale of talisman winger Matt Ritchie.
"Paolo Di Canio was a challenge - no question," Watkins told BBC Wiltshire.
Di Canio has refuted Watkins's comments, saying: "I think they are for revenge."
Watkins, who left his post last Friday following a takeover of the League One club by a consortium, added: "He was demanding to work alongside and had his own style. He spoke very much from the heart and along the way created a bit of collateral damage that I had to repair.
"Often I refer to it as management by hand grenade. Paolo would chuck a hand grenade and I would do the repair work at the end, like the Red Cross."
Speaking to BBC Sport, Di Canio feels Watkins's comments were made with regards to a disagreement the two had about the backroom staff at the club after he was appointed in May 2011.
He said: "I am not surprised by these comments because I think they are for revenge.
"Right at the beginning he [Watkins] introduced three people he wanted to be part of the coaching staff, but in one hour I discovered these people were very average - not good enough even for the Conference never mind League Two.
"He talks about repairing damage but it was me who had to repair the damage done from the previous season, when the players had poor attitude and discipline."
During his 21 months at the County Ground, Di Canio led the side to the League Two title and they are in play-off contention again this term in League One, sitting third in the table.
But the Italian also attracted headlines for his exuberant off-field behaviour and, on a number of occasions, publically criticised the board of directors and his own players.
Di Canio, 44, left the club on 18 February after becoming frustrated with boardroom issues, and is thought to be considering suing the club for alleged breach of contract.
The former West Ham forward added: "I want to move on, my time at Swindon is in the past, but when people make comments about me I have to defend myself.
"I brought success to the club, winning promotion and going close to a second promotion. What we did was a success."
Although Di Canio left in negative circumstances, Watkins was quick to point out: "For all that people may think of Paolo, he did achieve the objective.
"[Former chairman] Jeremy Wray identified the need to bring someone into the club who was going to rejuvenate after the sense of despair we got when we were relegated.
"Paolo re-energised the town, re-energised the football club and got us promoted. It's just disappointing he didn't stay to see the job done."