Man Utd v Chelsea: How Ferguson and Benitez's relationship soured
Last updated on .From the section Football359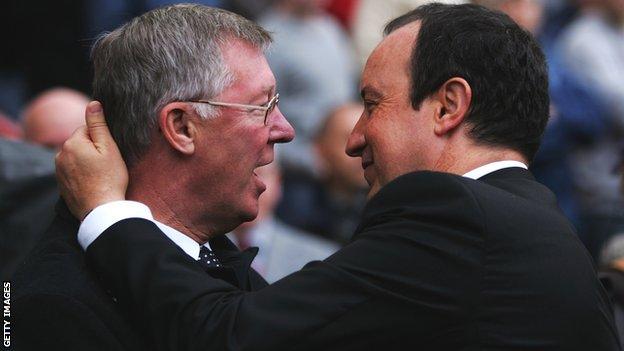 The forecast is, fittingly, for frost when Rafael Benitez and Sir Alex Ferguson meet at Old Trafford on Sunday.
But then any semblance of warmth and friendship disappeared some time ago, blown away in a blaze of seismic sound-bites, bullish barbs and the incredible pressures of the Premier League's psychological battle.
Sunday's FA Cup quarter-final between Manchester United and Chelsea marks the latest chapter in a managerial rivalry that may always be best remembered for Benitez's "facts" speech in 2009. But for Ferguson, managerial jousting is part of the game.
Those who have been to the 71-year-old's home often talk about his library of books.
There, on tightly packed shelves alongside Harry Truman's memoirs and biographies about Muhammad Ali, John F Kennedy, Nelson Mandela and Frank Sinatra, is a well-thumbed book written by Vince Lombardi, the legendary former coach of the Green Bay Packers American football team.
In When Pride Still Mattered, Lombardi writes: "You never win a game unless you beat the guy in front of you. The score on the board doesn't mean a thing. That's for the fans. You've got to win the war with the man in front of you. You've got to get your man."
In the early years, that meant Kenny Dalglish at Blackburn Rovers and Kevin Keegan at Newcastle United. Then came Arsene Wenger at Arsenal and Jose Mourinho at Chelsea. And when, in 2008, Liverpool began to get under Ferguson's skin by climbing to the top of the Premier League table, it became inevitable Benitez would follow.
Their relationship was not always heated, however. The men first met in 1999 when, out of work after his departure from the now defunct Extremadura in 1999, Benitez and his right-hand man, Pako Ayesteran, spent a week at United's Carrington training ground watching and learning from Ferguson and his assistant at the time, Steve McClaren.
The friendship continued even when Benitez became Liverpool manager. Ferguson sat next to his Liverpool counterpart on a flight to Geneva that season, where they spent a few hours talking football, business and wine.
When Benitez lifted the Champions League trophy in his first full season at Anfield, it was Ferguson who wrote him a congratulatory letter, complete with tactical breakdown of Liverpool's victory over AC Milan. "He can teach me more than I can teach him," Benitez said at the time.
It wasn't until 2007 that the first cracks in the relationship appeared during Liverpool's protracted and ultimately fruitless pursuit of Gabriel Heinze, the United defender.
Benitez was attempting to make the Argentine the first senior player to move between the rivals since Phil Chisnall left Old Trafford in 1964.
Ferguson had other ideas, though, and United accused their rivals of an illegal approach. It ended in a mess.
But even then, in December 2007, Ferguson was quick to defend Benitez as it emerged Liverpool co-owners George Gillett Jr and Tom Hicks held talks with Jurgen Klinsmann. "What happened with [Klinsmann] was a bad piece of business on Liverpool's part," Ferguson said.
"That sort of thing can be very upsetting for a manager. You should allow a manager to get on with his job. One thing for sure is that Rafa has brought in a lot of his players because of Spanish connections. Now if an English manager was to come into Liverpool, that connection is gone. What happens then?"
The relationship remained cordial while Liverpool struggled to get near United on the field and in the league table. Benitez had been in England for four years before in 2008 he finally managed to get the better of Ferguson in a Premier League match, having only previously beaten him in a 2006 FA Cup fifth-round tie.
Benitez, then in his fifth season at Anfield, must have known that he was finally getting to Ferguson when he heard the United manager question - in the club's official magazine, no less - whether Liverpool, without a league title since 1990, would have the mental strength to last the course and preserve their lead.
"There's no doubt in the second half of the season they will get nervous," Ferguson said.
There was also criticism of the £20m outlay on Robbie Keane and the Spaniard's spending. "There will be a spending splurge at Liverpool, that is Benitez's way."
"Something is different," Benitez said of their relationship at that time. "We are higher in the table. Before it was OK but now it is not too much."
It all came to a head shortly after lunchtime on Friday 9 January, 2009. At the time, Liverpool were three points ahead of Chelsea and seven in front of third-placed United, who had two games in hand. Benitez claimed Ferguson received preferential treatment from the football authorities and the rest is well documented.
"Everyone can see that I'm talking about facts," the Liverpool manager said famously. "I'm just saying things that everybody can see."
What is less well-publicised are the reasons why. In the days leading up to his comments, Benitez had been told by a source close to a number of the United camp that there was some disharmony in the squad. This attack, from what he saw as a position of strength, was an attempt to wedge open the divide. A failed attempt, as it happened.
Liverpool took just 13 points from the next 24 available before the teams next met in the league. "I would need to read more of Freud before I could understand all that went on in his head," Ferguson said. The next day, Benitez's side won 4-1 at Old Trafford. "I read about Freud when I was at school and university," Benitez replied.
United had the last laugh, however, winning the title for the third season in a row. Benitez would never recover and had left Anfield within 14 months.
"I think ­everybody expected it to happen and for him to go," Ferguson would say later.
But now Benitez is back. It took the United manager all of 48 hours to pass comment on his appointment by Chelsea in November, describing him as a lucky manager. Since then, both have made comments, and more will no doubt come over the course of the weekend.
Ferguson, like Lombardi, has always come out on top in these "mind games" and on Sunday another chapter begins against the man in front of him - Benitez.