Can football learn from rugby union's attitude to referees?
By Richard Conway
BBC Sport
Last updated on .From the section Football187
Rio Ferdinand's sarcastic applause in the face of Turkish referee Cuneyt Cakir at the end of Manchester United's controversial match against Real Madrid has reignited the debate about the way players treat officials in football.
It's just one of the reasons why Premier League referees have been trying to learn from their counterparts in other sports.
English rugby union's top referee, Wayne Barnes, joined up with Premier League referees at St George's Park on Tuesday to share his experiences and observe how they approach their own challenges.
"If we can share good practices and good ideas it's just better for us as referees, as individuals but also as a sport," Barnes told BBC Sport.
"We can learn from each other. It's what the best coaches do so why don't we do it as officials?"
Rugby union seems to have respect for the referee built into its DNA and Barnes believes there are lessons football can learn from his sport.
"We're pretty lucky in that after a match I'll go and sit down and have a meal or drink with the player and coaches and discuss our performances.
"That helps build that relationship and that understanding. With my five other [full-time professional] colleagues, we also go into clubs and work with them on a weekly basis, trying to get them to understand what we're doing but also to help us understand what the clubs are doing.
"So we have that relationship and get the opportunity to work with the players so they understand us as a human being, not just as a referee.
"When I go onto a pitch I already know those players, I already know those coaches. So it's easier with those relationships to have that mutual respect on the field.
"Unfortunately for football at the moment they don't have that opportunity to share after a match. Players and referees leave in different ways, so they don't grow those relationships but maybe that's something that can improve over time."
As Barnes spoke from pitchside at St George's, some of the most recognisable Premier League referees were taking part in a small-sided game of football. For men normally required to keep their cool and their counsel, it was surprising to hear raised voices and to observe a fierce competitive spirit.
Watching them was Mike Riley, who retired from refereeing in 2009 to take charge of Professional Game Match Officials Limited - the organisation established to supply, train and look after the Premier League group of referees.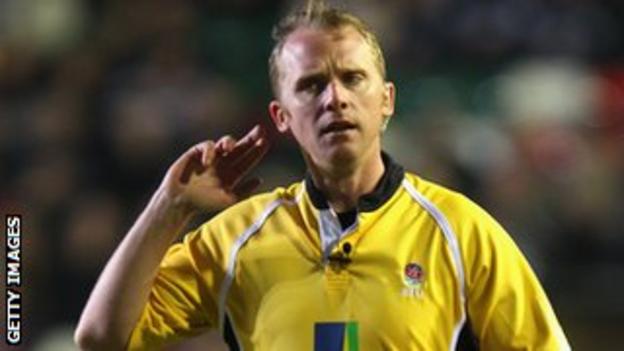 Despite a tumultuous few seasons pockmarked by isolated, high-profile cases involving Luis Suarez and John Terry, Riley insists standards of behaviour are improving in England's top division. Yellow cards are down by 4% this season compared to last, red cards by a significant 37%.
"We shouldn't lose sight of the fact that over the last four or five years the standard of discipline in football has improved season by season," he says.
"The number of cautions for dissent has reduced, the number of dismissals for abusive or insulting language has reduced.
"You have to give great credit to the players but you have to look to the environment in which Premier League football is played. It's highly passionate, played out to full houses, with a lot at stake. And yet in that environment players conduct themselves, by and large, very respectfully."
Referees now visit all 20 Premier League clubs twice per season, once during pre-season training and again after Christmas, to talk to players and answer their questions. The increased flow of communications is, Riley believes, partly responsible for the fall in cards.
But perceptions that take a long time to build can often unravel over a single incident, something Riley is keenly aware of.
"It's inevitable given the focus that's on the game," he says. "If something happens and a player reacts it's picked up on TV or in the newspapers and then there's a reaction towards it.
"What's never detected is the amount of conversations that go on in the field of play, the camaraderie between a player and a referee that takes place off the ball.
"A number of times a referee will be running upfield joking with a player, talking to him, and both parties run away with a smile on their face. But because it happens off camera it doesn't get detected, people don't talk about it."
Riley is on a mission to raise awareness of his group's success.
"The referees at Premier League level get 95% of their decisions right, the assistant referees get 99% of their decisions right," he said. "Having that high degree of accuracy in the game shows the quality of these officials. But the more we can take that message out to fans, talk to them, engage with them, the more they'll understand how good a job our officials really do."
PGMOL claims referees are required to make a decision every 12 seconds during a match, something Riley believes requires a high degree of physical and mental strength.
"It's the mental toughness that marks the elite referee from the one who is aspiring. You can see from the camaraderie out on the field today that they have a common mindset. They're officials. And there's that great spirit amongst them," he says.
"So you take that mental toughness, you take the spirit, you take the love of the sport that they're involved in and that's what makes a very good referee."
Next season goal-line technology will become a common sight, with the Premier League and FA keen to install systems in all 20 Premier League stadiums and Wembley by August.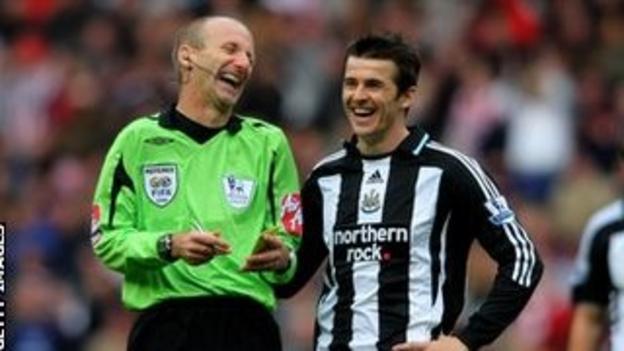 Interestingly, Barnes talked about how the use of technology is aiding rugby union's quest for complete accuracy and how it can help football too.
"We're trying to get every decision right," he said. "We never will, because we'll get in wrong positions, there are many reasons why. But we're trying to get more of the big decisions right.
"So [in rugby] if we miss someone being tackled without the ball but the video ref picks it up then we get the right decision. So we're trying to use technology within our sport. It's the same with goal-line technology. Anything that helps get more decisions right has to be good for the game."
In an age of saturated sports coverage, Riley is well aware that fans, managers and media all have heightened expectations when it comes to the performance of officials.
"The more we understand what makes a great rugby union referee, what makes a great rugby league referee, what makes a great football referee then we can learn from each other and develop the levels of officiating in our own sports," he said.
"We're trying to get a better appreciation of how we see the game and how the players see the game so that ultimately when we go out at 3pm on a Saturday we're refereeing the game that the players want to be refereed and that the fans want to see. That's what makes a successful competition."