Nigeria 'lesbian football ban' reports examined by Fifa
Last updated on .From the section Football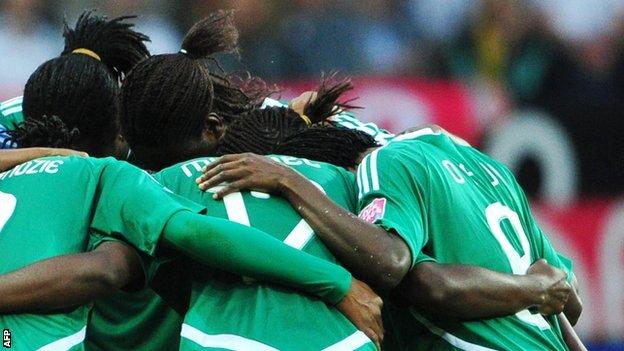 Football's world governing body Fifa has written to the Nigerian Football Association over claims lesbians are now banned from playing football there.
Dilichukwu Onyedinma, chair of the Nigeria Women Football League (NWFL), was quoted as making the statement.
"Any player associated with it will be disqualified," she is quoted as saying.
While contravening Fifa's anti-discrimination policies, the situation is made more complicated because homosexuality is illegal in Nigeria.
Currently, a Same-Sex Marriage (Prohibition) Bill that specifically outlaws same-sex unions is awaiting a signature from president Goodluck Jonathan to go in to law.
If that occurs, gatherings of homosexuals or any other support for gay clubs, organisations, unions - whether in secret or in public -will be banned, with same-sex couples facing up to 14 years in prison.
In a speech at the NWFL's recent annual general assembly, Onyedinma is reported to have said that lesbian players would no longer be eligible for the Nigeria women's national team and would "be sacked" from their club sides.
The Super Falcons have won the Africa Women's Championship eight times, but exited the 2011 Women's World Cup at the group stage and did not qualify for London 2012.