Paolo Di Canio's former coaching staff waiting on Swindon wages
Last updated on .From the section Football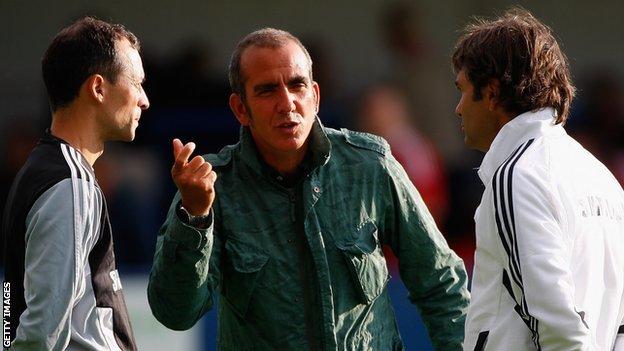 Former Swindon assistant manager Fabrizio Piccareta says he and the rest of Paolo Di Canio's coaching staff are still owed outstanding wages.
Swindon were taken over by a local consortium on 21 February, and Piccareta says he was told that wages would be paid by the end of February.
"We have received nothing," the Italian told BBC Sport.
"We worked until the day we resigned publically. We met [general manager] Steve Murrall and were told that on the last day of February we would have been paid but we have not heard anything.
"The new consortium say they want to make incredible stuff for Swindon, but they must end any outstanding situations.
"We gave back all our stuff - mobile phones, laptops etc. - and were then told we would be paid soon, but so far we have not received anything."
Piccareta took temporary charge of the team for the win against Tranmere, which took the Robins top of League One, before confirming he and his fellow coaches would follow Di Canio out of the County Ground.
Piccareta says he is not looking to cause trouble with the club, but is eager for the matter to be resolved quickly.
He added: "We put a lot of work into the club and people must know that those who worked for the club, and left them at the top of the table, have not been paid by the new consortium.
"This is something not only wrong but also unfair. We gave everything for the cause, even if people try to cancel what Paolo Di Canio did.
"We have our family and we need to be paid for what we did."
Swindon chose not to comment when contacted by BBC Sport.