Off The Bawl - 2 March
By Tam Cowan
Off the Ball presenter
Last updated on .From the section Football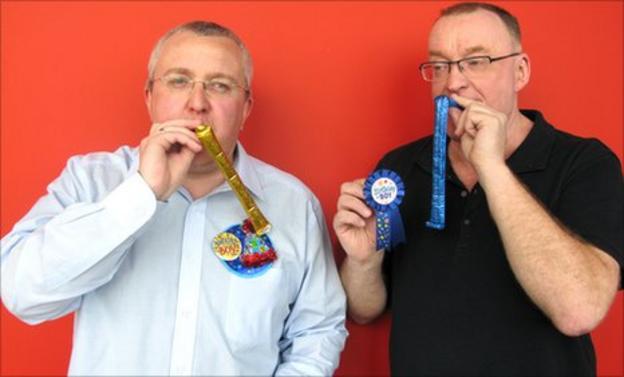 Greeeeeetings!!! A touch of glamour in the studio last Saturday as we were joined by everyone's favourite Gaelic girl Cathy MacDonald.
As David from Moray said: "It's great to have BBC Alba on the box. I have no idea what they're saying and, quite frankly, I don't care. With top totty like Cathy Mac to ogle, it's always worth tuning in. By the way, what is the Gaelic for MILF...?"
Cathy inspired the listeners to think of some other shows (apart from football) BBC Alba could broadcast on a Saturday night.
Meanwhile, our other guest - veteran all-round entertainer Allan Stewart - revealed he wasn't allowed to black-up when starring in The Jolson Story at the Edinburgh Playhouse.
"No point in him auditioning for Jimmy Calderwood - The Musical," said Gary Weir in East Kilbride.
And Danny in Kilmacolm added: "Forget Al Jolson - I've always thought Allan Stewart is the spitting image of Craig Whyte."
Elsewhere in a packed show, we asked for your taxi tales on the back of Vladimir Romanov's revelation that he wants to become a cabbie in Lithuania.
As a wee nod to Bruce Reynolds - one of the Great Train Robbers who recently died - our Team of the Week was The Robbery XI.
And, after Dame Judi Dench revealed she received a goody-bag on The Graham Norton Show, we asked listeners to suggest what you'd find inside an Off The Ball goody-bag.
Here's another selection of the most petty and ill-informed texts and emails on radio...
TAXI TALES
Anon said: "Taxi for Romanov? Haven't the Hearts fans been chanting that for years?"
Big C in EK said: "The late great Tommy Cooper was known to slip something into a taxi-driver's top pocket while telling him to get a drink. On checking later, the cabbie would always find a teabag..."
Dave in Edinburgh said: "I picked up a certain Mr Craig Whyte at the Balmoral Hotel and dropped him off at Castle Grant two years ago during the heavy snow. He turned out to be my favourite fare of the year and he even paid cash. We had a good chat and a giggle all the way up the road and I had no idea who he was until I got back to Edinburgh. A total gentleman!"
Anon said: "Romanov isn't Lithuanian, he's Russian. My wife is Lithuanian and she goes mental when people refer to him as Lithuanian. He's still a Russian citizen and holds a Russian passport, not Lithuanian. He's as popular there as he is in Edinburgh, so he has hee-haw chance of getting a hire in Vilnius."
NEW PROGRAMMES FOR BBC ALBA...
Have I Got Uist For You (Scott Shearer)
Whose Lamb Is It Anyway? (Malky Campbell)
You've Been Farmed (Anon)
The Jonathan Ross and Cromarty Show (Mick the ref)
Top Gigha (Kenny in Gourock)
Juke Box Jura (Sam McCafferty)
The Free Range Eggs Factor (Anon)
Coll The Midwife (Clive Harker)
... AND SOME FILMS
Vatersay Night Fever (Anon)
Debbie Does Harris (Ben from Hawick)
Back To The Teuchter (Anon)
Invasion of the Bothy Thatchers (Iain G)
TEAM OF THE WEEK
The Robbery XI
1/ Smash and Grab Douglas
2/ Zander Diamond Heist
3/ Torch McKinlay
4/ Tommy Ring for the police (c)
5/ Cordon McQueen
6/ Steve Heighwayman
7/ Snacho Novo
8/ Robbin' Van Persie
9/ Henrik Larceny
10/ Brink's Mat Le Tissier
11/ Garth Crooks
Subs: Sergei Balaclava, Andrew Getaway Driver, Harry Hood, Thief Lasley, Loot Macari, Gareth Bail, Gordon Jury, Shooter Arveladze, Vidar Reset and Nigel Hasselbank job.
THE OTB GOODY-BAG
Apart from a map of Stuart's scheme in Perth, a picture of Clyde legend Tommy Ring and the official rules for Off The Ball's favourite game Touch The Dug's Erse, here's what else the listeners suggested...
-A pair of Simon Stainrod's brown slip-ons (George Dickie)
-A signed Gordon Ramsay jersey from Rangers' triumph in the 1966 European Cup (David in Denny)
-A pair of ear-plugs (Anon)
Cheers mate!
AND FINALLY...
The song that played us out? Well, as a tribute to Lord Nimmo Smith - who found Rangers guilty and fined the Oldco £250,000 - we finished with the Kenny Rogers' classic Coward Of The County.
To join in the fun on this Saturday's show, call 0500 929500, text 80295 or email offtheball@bbc.co.uk
Listen to the most recent Off the Ball programmes.
Download the latest Off the Ball podcast.