Dick Graham: Colchester United FA Cup giant-killing boss dies
Last updated on .From the section Football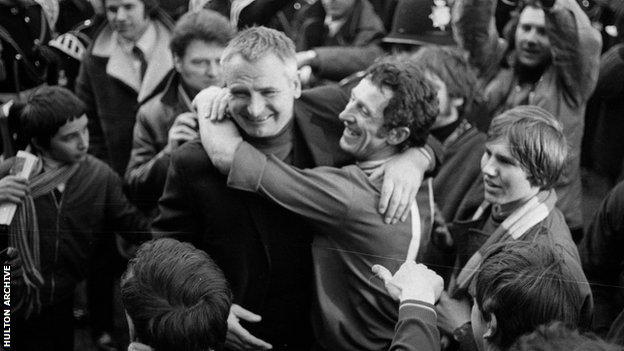 Former Colchester United and Crystal Palace manager Dick Graham has died at the age of 90.
Graham led Colchester to one of the biggest FA Cup shocks when his Fourth Division side beat giants Leeds United 3-2 in February 1971.
He died following a period of ill health on Thursday morning.
"To us, he was certainly a gladiator in his own time, when he was a player, and a leader of gladiators when he was a manager," read a family statement.
"But away from the arena he was a kind, reflective man and one who believed that this life was a test and whatever life throws at us, we must not only try to do our best but always act with integrity.
"He was a hero to us, his family and a hero to many people in Colchester and beyond."
Graham spent the majority of his playing career as a goalkeeper for Palace before becoming manager at the London side in 1963.
He was in charge at Colchester from 1968 to 1972 and was entered into the club's hall of fame in 2007 in recognition of the FA Cup fifth-round win over Don Revie's Leeds, which earned them a place in the quarter-finals.
Graham underwent a hip replacement operation in December, but although he appeared to recover well, an underlying heart condition worsened the following month and he was confined to bed for the last three weeks of his life.