Neil Warnock: Leeds United position has not been easy
Last updated on .From the section Football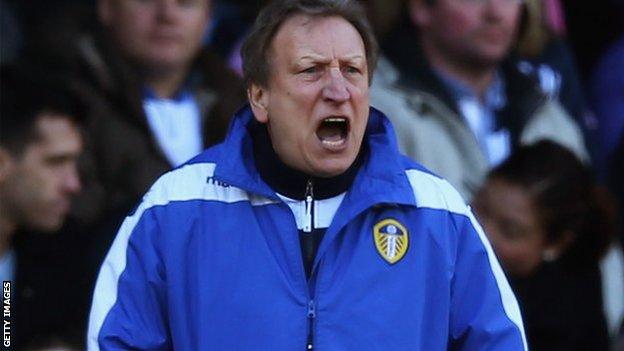 Leeds boss Neil Warnock has questioned whether other managers would have been able to replicate the job he has done since taking over last February.
He has intimated he will leave the club if they fail to gain promotion.
"I'm not sure how many managers would have coped with the vast amount of changes and had us challenging," he told BBC Radio Leeds.
"I think we had three in the squad who were in the first XI at the end of last season. I don't think people realise that.
"It is easy to criticise but the Championship is a tough league and you have to walk before you can run.
"We could have had another 10 points this season, so it is frustrating but it could be worse. I couldn't see where the next win was coming from a few weeks ago.
The Elland Road side are six points off the play-off places with 11 matches to play.
They travel to one of Warnock's old sides, Crystal Palace, on Saturday and the 64-year-old is keen for the Eagles to get promoted.
He spent two-and-a-half-years in charge at Selhurst Park before leaving for Queens Park Rangers after the club were placed into administration.
"It is a great atmosphere there and I love the place, it gave me back my love for the game. The fans were brilliant with me," he added.
"They won 4-2 the other night and they were on fire. I really do hope they go up because they are a club close to my heart."