Gary Smith given Stevenage chairman support
Last updated on .From the section Football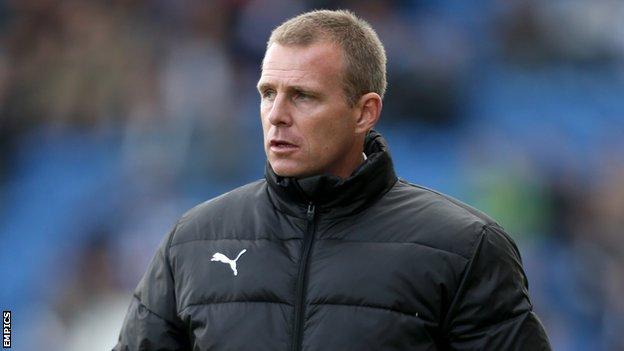 Stevenage boss Gary Smith has spoken of the support he received from chairman Phil Wallace during the club's slide down the table.
Boro ended a six-game losing run with
Stevenage were second in League One in early November, but are now 15th.
"The chairman's been very supportive," Smith told BBC Three Counties Radio. "He has got behind me and the team and that support has helped."
He added: "The chairman is looking at a team that has shown so many good signs and then he's looking at a group going in the other direction.
"He's been very supportive. And it's not easy, of course."
Smith took on his first English management role when he succeeded Graham Westley at Broadhall Way in January of last year.
The 44-year-old maintained Boro's place in the League One play-offs, but failed to achieve a third consecutive promotion for the club.
And the pressure of Stevenage's worst run of results in the Football League - two wins from 13 games - took its toll on the former Colorado Rapids boss.
"Every single area of your life is affected. You want to find the remedy. You work harder to find that remedy," he said.
"A lot more goes into the day because suddenly the consequences of losing are not something you want to contemplate.
"The most frustrating thing is you see a group that are so capable falling just short. Those fine lines are so minute.
"I don't think you ever doubt what you're capable of. You ask more questions of yourself and others.
"If you ever fear the sack in this job, then it's not worth doing it. Because we know, as managers, whether it's here or somewhere else, we will get the sack."