Queens Park Rangers boss Harry Redknapp 'would take' 37 points
Last updated on .From the section Football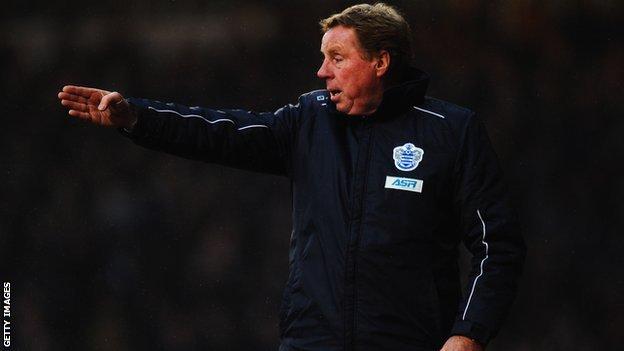 Harry Redknapp believes Queens Park Rangers will escape relegation if they reach 37 points.
Last season that total earned the club Premier League safety but in previous years it would not have been enough.
"If we can get to 37 points, I would take 37 points now and walk away and take my chances," Redknapp said.
"Whether it is going to be enough I wouldn't be sure, but if someone offered 37 points, you would have to be a fool not to take it."
QPR finished 17th last season on 37 points with Bolton, on 36, going down, but the previous season Birmingham City and Blackpool were relegated with 39 points.
The London outfit are currently bottom of the Premier League with 20 points ahead of their meeting with Sunderland on Saturday.
They have 10 games remaining to reach Redknapp's target but the former Tottenham manager remains positive about their chances of beating the drop despite being four points adrift of safety.
"It can all change so quickly - six, seven, eight points can evaporate so quickly. A couple of wins, a couple of losses, it can pretty soon happen," said Redknapp.
"We need a run of wins, we need another five wins at least, we need to win half our games, maybe get a draw or two.
"We just have to keep going ourselves, keep trying to pick up results."
Redknapp is also confident with the way QPR's finances are being handled despite the club's accounts revealing their wage bill had nearly doubled from £27.6m to £56m in the year to 31 May, 2012.
That figure has also been added to as recently as January with Loic Remy and Christopher Samba brought in on high wages.
Redknapp knows he has to play his part by keeping the club in England's top flight.
"If the debts are high the chairman and the board must understand that," he said.
"They're not silly men, they're successful businessmen. They know what they're doing so I'll leave it to them. It's their business.
"It's important obviously [to stay up]. But when you are a football manager we are not involved in that side of the business."