FA Cup: Wembley a major motivator for Millwall
Last updated on .From the section Football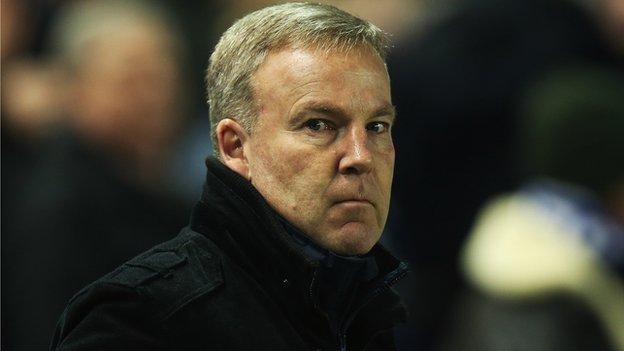 Millwall's manager and players have described the prospect of playing at Wembley as a major factor as they prepare for Sunday's FA Cup quarter-final against Blackburn Rovers.
Playing the semi-finals of the competition at Wembley remains a controversial issue for some.
Traditionalists maintain it devalues reaching the final proper.
But Lions manager Kenny Jackett told BBC London: "Championship clubs don't get many opportunities to play there."
Defender Alan Dunne agreed: "It's great for lads who've never played there, a massive carrot.
"The reward for a club like Millwall and the fans - we could take 50,000 to Wembley - is remarkable. I think the fans deserve it and the manager deserves it.
"If we got there it would mean playing against a top side too, but Blackburn have a lot of Premier League experience and it's going to take everything we have to get through."
Millwall won 2-0 at Blackburn in the league in November, but neither of the players who scored their goals at Ewood Park will be available to Jackett on Sunday.
New Zealand international striker Chris Wood was sold to Leicester City during the transfer window and midfielder James Henry is out for the rest of the season with ruptured knee ligaments.
Earlier this week, Jackett also lost on-loan striker Benik Afobe after the 20-year-old tore an anterior cruciate ligament during the home defeat by Wolves, and returned to parent club Arsenal.
"Both James and Benik were doing well at the time of their injuries, but it happens at every club and you have to be strong enough to cope with it and go again," said Jackett.
"Blackburn are full of quality and Premier League experience. Their problems as a club are perhaps the opposite of ours.
"They're trying to build again after relegation from the Premier League, we're coming from the other end of the scale having come up from League One and are working hard to maintain our momentum, but from the point of view of the Championship, we're very close.
"It's a crucial game in the season. In terms of our recent league form I have been disappointed.
"We were poor against Wolves, there's no other word for it, but it followed on two good away performances at Leeds and Middlesbrough, so we do have to sort our home form out."
Both Jackett and Dunne re-iterated their support for the campaign to prevent the closure of Lewisham Hospital, a cause with which the club has publicly associated itself.
"It's our local hospital, we do a lot of work in the community as a football club and, if anybody does get injured at a match from either side, that's where they get taken in that unlikely event," said Jackett.
"Our medical team have strong links there and as a management and players we're backing our medical team."