Luis Suarez improving as player and person says Brendan Rodgers
Last updated on .From the section Football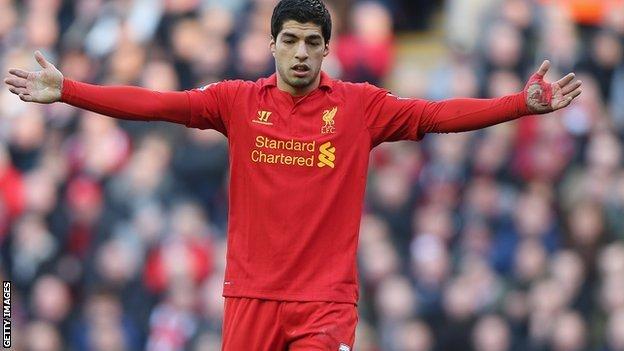 Luis Suarez has changed for the better as a player and person, Liverpool manager Brendan Rodgers has claimed.
The Uruguayan has been involved in controversies including racism and diving since moving to Anfield in 2011.
In January, Rodgers said an admission by Suarez of "falling" to win a penalty last year was "unacceptable" to him.
"This is a guy who is trying to turn around his life and adapt to the culture and you can clearly see that," says Rodgers.
In the most recent controversial incident, Suarez was accused of "stealing" the FA Cup tie against Mansfield Town after he seemingly used his hand before scoring against the non-league outfit.
But Rodgers believes the 26-year-old is learning from what has happened and what is being said about him.
"What I have admired from close hand is this is a guy who is trying to change," Rodgers added.
"He has come in here and been labelled many things. Because he is a foreign player he will get accused more.
"If a British player dives we'll laugh and find it funny but when it's Luis Suarez he is a diver.
"There are cultural differences to where he has worked and played before and you can see he has clearly adapted to that."
Suarez has 21 goals in the Premier League so far this season, and Rodgers feels he will be close to Robbie Fowler's club record of 28 by the end of the league campaign.
"The thing with Luis is he is really hungry and I would expect him over these last 10 games to go close to it."
Despite Liverpool's recent announcement of a substantial rise in its debts, Rodgers is confident that the club's board will allow him to strengthen his squad this summer.
"In terms of me building the squad I've already got the assurances it won't affect anything.
"They have made every promise and every commitment to me that every single penny they have will go into generating the squad and making it better."