St Mirren angered by cup final ticket allocation decision
Last updated on .From the section Football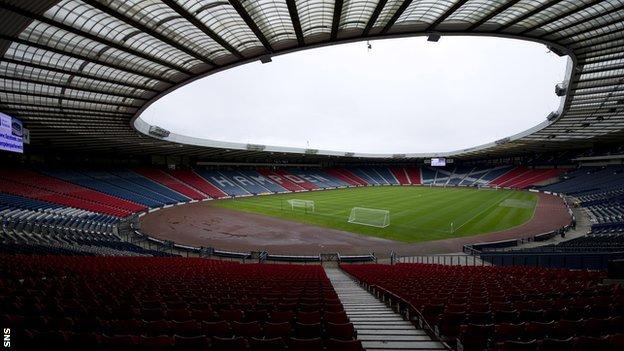 St Mirren are "extremely disappointed" by the Scottish Football League's decision to allocate an additional 3,500 cup final tickets to Hearts.
The Buddies say the decision over the West Stand tickets was made "without our knowledge".
The Scottish Communities League Cup final takes place at Hamdpen on Sunday 17 March.
"These tickets had been earmarked for St Mirren supporters," said the club in an official statement.
"We are bitterly disappointed that this decision has been made when there were still nine days to go to the final and also while Hearts do not appear to have sold their full allocation.
"We feel strongly that any decision on these tickets should have been delayed until closer to the final.
"We were advised earlier this week that the SFL were considering an option to split the remaining 3,500 West Stand tickets between the two clubs and also allocating more South Stand tickets to ourselves to make up some of the shortfall.
"The decision was made to allocate the full 3,500 to Hearts without our knowledge. This information was only found out when we updated the SFL that we had just 100 tickets left late on Friday afternoon.
"We have now been informed that we are being given a further 1,200 initial allocation of debenture seats in the South Stand (Upper) but unfortunately these are priced at £30 with no child concessions.
"There is also a further 900 tickets in this area that will be made available should these be required.
"However considering all parties felt this would be 'The Family Final' we are being left with no further child tickets.
"We would like to thank the 14,000 St Mirren fans who have bought tickets so far and apologise to those who planned to purchase tickets this week but this has been completely outwith our control as all the organisation for the match is done by the SFL."
Speaking on BBC Radio Scotland's Sportsound programme on Saturday, St Mirren chairman Stewart Gilmour reiterated his anger at the process the SFL had followed and insisted the Paisley club should have been part of any discussions to reallocate the remaining tickets.
"We asked if they could look at segregation, but there's been no discussion with us or negotiation," said Gilmour.
"Football is a working man's game and our fans can't get tickets for their kids without paying £30, so we're going to try and do something about it.
"The final was well-priced, but it's just not right that the tickets were given to Hearts without consultation.
"If the tickets had sold out, that would be fine - but I went on to the Hearts website last night and could buy tickets, so they hadn't sold them out.
"This is the communities cup. Is it all about money and selling tickets? This decision should have been discussed between David Longmuir, his staff, Hearts and St Mirren over the weekend. It wasn't - that shouldn't have happened.
"I contacted Jim Ballantine (SFL president) last night and he didn't know the details, but I thought someone would have had the decency to phone me this morning and give me an update. I'm very annoyed about it. We're trying to look after our supporters.
"The decision was made without knowing all the facts, which is totally wrong."