Kilmarnock: clubs face top-six pressure says Kenny Shiels
Last updated on .From the section Football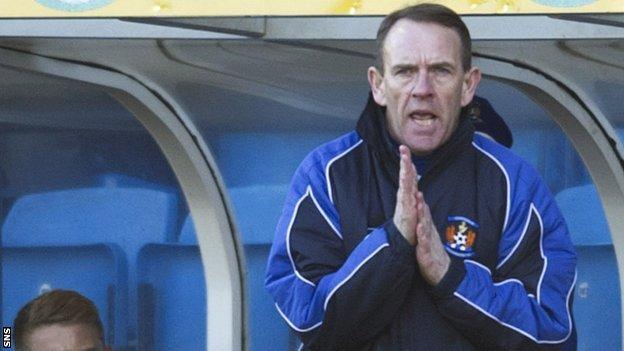 Kilmarnock manager Kenny Shiels has warned of the pressure that clubs are under when attempting to reach the Scottish Premier League top six.
"The pressure is a monetary thing. If you're in the top six you get a payment in April, if you're in the bottom six you don't get it till July," he said.
"Then there's no cashflow through the summer. There's a lot of pressure on chairmen to try and qualify for that."
However, Shiels insisted his side were in good form on their travels, despite the defeat.
"It was hard to take for the supporters," he said.
"The last time we were beaten away from home, apart from the Parkhead game, was here in October.
"It's been a fantastic run and we've just run out of players to be fair.
"You could easily make excuses - we had injuries, we've lost players - but we can't do that.
"Both teams struggled with the conditions and the tension in the game with this top-six thing.
However, the Northern Irishman was critical of his side's defending, and, in particular, the part Dutch defender Jeroen Tesselaar played in conceding the game's first goal.
"You prepare players and ask them to do specific jobs," he complained.
"The corner that Jeroen Tesselaar gave away, I don't know what he was doing, and then his job at the corner was to pick up Murray Davidson.
"I'm still waiting for an answer as to why he didn't pick him up.
"You come off the pitch today and there was nothing between the sides.
"But they've got the joy of winning and it puts them in a really good position for the top six, whereas we now have to win our last three games.
Shiels also warned that his side's next outing would not prove any easier.
"We've got to look forward to the Ross County game now, and they're playing like Real Madrid, so it's a tough game," he said.