Neil Lennon expects better from Celtic
Last updated on .From the section Football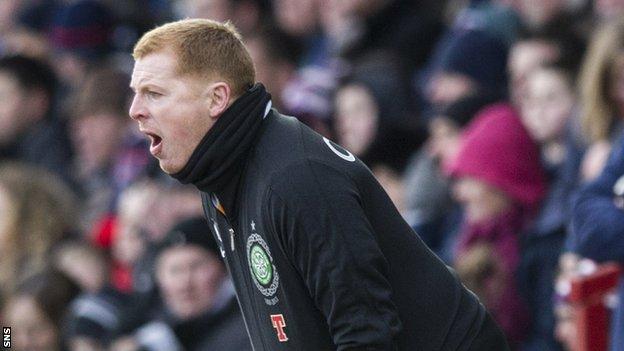 Manager Neil Lennon was critical of his players' attitude as Celtic threw away a two-goal lead to lose at Ross County.
"I'm expecting better from Celtic players," explained an angry Lennon.
"I know I can get better, but there's some of them who look as if they don't want to be here any more.
"I want players here who are prepared to roll their sleeves up, but in the last couple of games I've not really seen that. A lot of them are not really here mentally."
Charlie Mulgrew and and Gary Hooper gave the champions-elect a two-goal lead inside 20 minutes, but it did not take long for Ross County to stage a stirring comeback.
Grant Munro and Sam Morrow had levelled before the break and Steffan Wolfarth nodded in an injury-time winner.
Despite Celtic holding a lead of 15 points at the top of the Scottish Premier League table, Lennon was not in the mood to cut his players any slack.
"I didn't think it was an extraordinary game at all," added Lennon "We should have been four up at half-time, but we conceded two really poor goals.
"Miku had a great chance, then [Anthony] Stokes missed an absolute sitter. It wasn't as if we switched off and stopped creating chances.
"We went in at 2-2 and we knew what was coming in the second half.
"Big moments change games and you've just got to see it out. If you're not going to win it, don't lose it - and that third goal was shocking."
Lennon also bemoaned the Celtic's recent schedule of matches, which included a trip to Italy to face Juventus in the Champions League before a 180-mile trip to Dingwall following just 24 hours' rest for his players.
"We came back from Turin on Thursday and had a four-hour drive yesterday," said Lennon. "You get no time really. Players were pulling out of the squad through injury.
"We had to patch the team up and go with a back three. But we should have enough quality to look a bit more stable than what we did at times.
"Going forward, we looked a threat in the first half, but I'm scratching my head as to how we lost the game."