Garth Crooks's team of the week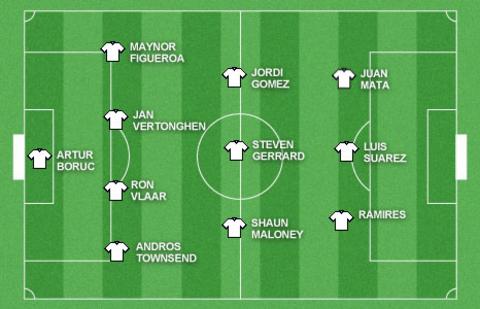 In a weekend when the FA Cup and Premier League offered some scintillating matches, my team of the week is made up of the best performances from both competitions.
In the FA Cup, the abusive Chelsea fans should apologise to Rafael Benitez after his substitutions helped earn a replay with Manchester United, while Wigan's astonishing win over Everton means they look forward to their first ever FA cup semi-final.
In the Premier League, Aston Villa and QPR secured vital wins at the bottom while Liverpool ended Tottenham's unbeaten run in the battle for European competition next season.
Take a look at my team of the week and see whether you agree with my selections.
GOALKEEPER - ARTUR BORUC (Southampton)
In a frustrating game between Norwich and Southampton, with openings few and far between, it's not unusual for some players to seek to manufacture something. Norwich forward Grant Holt was one of those players, winning a stoppage-time spot-kick. Contact was certainly made in the box by Southampton's Luke Shaw but it was a highly contentious award. Saints keeper Artur Boruc then produced the best moment of the match with a superb save and justice was served.
Did you know? Boruc actually has the worst save percentage (55.6%) of any of Southampton's three goalkeepers in the Premier League this season.
DEFENDER - MAYNOR FIGUEROA (Wigan)
The Honduran has made my team once again during an exciting period for the Latics. He was in fine form against Reading recently in the Premier League and even better against Everton in the FA Cup quarter-final. The full-back, who plays more like an old fashioned wing half, out-jumped Everton's Leon Osman and Sylvain Distin to score Wigan's opening goal from a free-kick and put them on course for their first FA Cup semi-final.
Did you know? Figueroa netted his first ever FA Cup goal this weekend, in 914 minutes of action.
DEFENDER - RON VLAAR (Aston Villa)
When I saw Villa defender Nathan Baker's panic as he inexplicably turned the ball into his own net, I thought "here we go again". But the 21-year-old Baker recovered admirably, and that was largely down to the presence of Ron Vlaar at the centre of the Villa defence. The captain steadied the ship and led his team to a crucial away win against fellow strugglers Reading.
Did you know? Aston Villa have conceded an average of 1.7 goals when Vlaar has played this season and 2.1 when he has been absent.
DEFENDER - JAN VERTONGHEN (Tottenham)
I must admit it's rather bizarre that I find myself selecting a central defender whose team have just conceded three goals, but I can honestly say not one of them was Vertonghen's fault, which is an indication of how well he played. Two of the most basic schoolboy errors by Kyle Walker and Benoit Assou-Ekotto destroyed what would have been a very good result for Spurs against Liverpool. However, I don't know why the Belgian should suffer any further humiliation because of his team-mates.
Did you know? Vertonghen is the fourth defender to score a brace in the Premier League this season. Everton's Leighton Baines, Norwich's Russell Martin and Southampton's Jose Fonte are the others.
DEFENDER - ANDROS TOWNSEND (QPR)
I don't know whether Andros Townsend totally appreciated QPR boss Harry Redknapp's post-match comments about his low wages, but I suspect his charismatic manager might be revising the on-loan player's salary and his position at Loftus Road should the team stay up. Among QPR's January transfer-window buys, Townsend was the least talked about but he's fast becoming a permanent fixture in Redknapp's first XI. His goal against Sunderland set the Hoops up for a major victory and one that could prove to be the turning point in their long and difficult season.
Did you know? Townsend played just 29 minutes in five league appearances for Spurs earlier in the season but has played 343 minutes in four appearances for QPR already.
MIDFIELD - STEVEN GERRARD (Liverpool)
I've seen him miss penalties before, but if you want someone to take one in the dying minutes of a match you can find no-one better than Steven Gerrard. For all of Tottenham's good play and possession, no team can expect to commit as many errors as Spurs and expect to come away from Anfield with any more than a handshake. In the 3-2 defeat, that is all the north Londoners deserved.
Did you know? Gerrard is one of only three outfield players to play every minute of every Premier League game this season (along with Leighton Baines and Matt Lowton).
MIDFIELD - JORDI GOMEZ (Wigan)
All I can say is "what a goal!" Against Everton, Jordi Gomez produced the sort of strike that every footballer dreams of. Wigan's third goal within four minutes put the game well and truly beyond Everton and rapidly injected discontent into the home support. With no trophy again for Everton this season and David Moyes reluctant to sign a new contract, this is a sticky period for the Toffees.
Did you know? Gomez has been involved in four FA Cup goals for Wigan this season (three goals and one assist).
MIDFIELD - SHAUN MALONEY (Wigan)
This lad was magnificent against Everton and ran Leon Osman and Kevin Mirallas into the ground while Phil Neville and Marouane Fellaini were eventually withdrawn. Don't get me wrong, this wasn't a one-man show by any means. Wigan were superb, but so was Maloney.
Did you know? Maloney completed 94% of his passes against Everton, the best rate of any player with five or more passes in the game.
FORWARD - JUAN MATA (Chelsea)
This was another masterclass by the little Spaniard against Manchester United. Admittedly it took 45 minutes to come to terms with United's dominance but, once Rafael Benitez readjusted his team and made his substitutions, Mata started to weave his magic. If it wasn't for a wonder save by United keeper David de Gea the tie would have been all over. You only have to look at the way these lads are playing for Benitez to see that things are starting to work again at Chelsea.
Did you know? Mata has had a part in 13 goals in just 11 FA Cup appearances for Chelsea (five goals and eight assists).
FORWARD - LUIS SUAREZ (Liverpool)
I think Luis Suarez is fast becoming the most irritating footballer on the planet. The only problem is he's such a good player, as he showed again by scoring and winning a penalty against Tottenham. The moment he gets into that box he is untouchable. If any contact whatsoever is made you run the risk of him going to ground and a penalty being awarded. I can recall former Liverpool strikers Kevin Keegan and Kenny Dalglish requiring the same kind of care and attention - and they weren't bad either!
Did you know? Suarez has now scored nine goals in the Premier League 2013, two more than any other player.
FORWARD - RAMIRES (Chelsea)
I sincerely hope those abusive Chelsea fans that travelled to Old Trafford send Rafael Benitez a letter of apology. How they have the nerve to continually abuse the man for doing his job - and doing it absolutely brilliantly against Manchester United - is beyond me. It was a match that former boss Roberto Di Matteo might well have lost. To bring on John Obi Mikel and allow Ramires to do what he does best - bomb forward - at such a crucial stage in the game was the action of a manager who knows exactly what is required at precisely the right time. Get over yourselves Chelsea fans and get behind the team. You might win the FA Cup.
Did you know? Ramires made a game-high six interceptions in this fixture, more than he has managed in any Premier League game this season.