FA Cup: Chelsea manager Rafael Benitez's tactics silences doubters

By Phil McNulty
Chief football writer
Last updated on .From the section Football402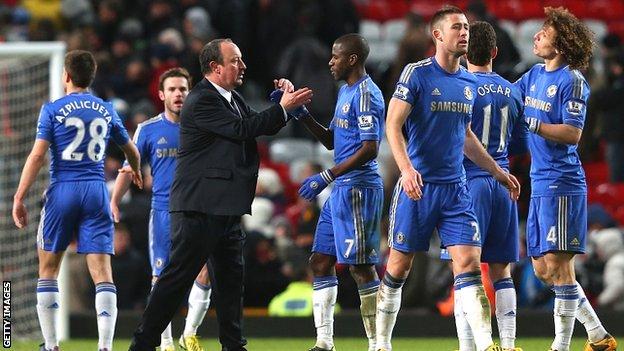 Rafael Benitez was serenaded with insults from a familiar songsheet as Frank Lampard and Victor Moses walked past Chelsea's interim manager in Old Trafford's technical area.
Chelsea were 2-0 down to Manchester United and, on all evidence, on their way out of the FA Cup to cast another black mark alongside the man who has become the lightning conductor for a chaotic club's discontent.
The second half was only seven minutes old as Eden Hazard and Jon Obi Mikel came on with the strains of "You Don't Know What You're Doing" and "We Want Our Chelsea Back" echoing from one end of Old Trafford - as well as the X-rated suggestion that Benitez was not welcome at Chelsea.
Well, for 38 minutes at least, Benitez did know what he was doing and he did give Chelsea back to the dissenters as a seemingly beaten side was transformed into a team that earned a fully deserved draw and should have actually confirmed their place in the FA Cup semi-final.
Benitez has been on a starvation diet when it comes to getting credit from Chelsea's supporters since he arrived in succession to sacked Roberto Di Matteo. They must find it in their hearts to afford him some here.
After making the changes that were the catalyst for the latest round of derision, Hazard struck a superb goal and Ramires equalised. Chelsea controlled the final third of this tie emphatically and it was only United keeper David De Gea's outstretched leg that prevented the brilliant Juan Mata scoring an injury-time winner.
Benitez has long since accepted he will never be embraced with any goodwill no matter what he may achieve at Chelsea - but he will have taken quiet satisfaction from this favourable turn of events and no-one should begrudge him.
He will have certainly taken great personal pleasure from adding to United manager Sir Alex Ferguson's discomfort in a frustrating week following their contentious Champions League exit to Real Madrid. He was even more than happy to although the animosity between the two men is now more fitting for a visit to the headmaster's study.
Benitez got the better of Ferguson with his adjustments, just as Jose Mourinho had done with the introduction of Luka Modric while the Scot was raging against the injustice of Nani's red card against Real on Tuesday.
Of course, this being one of the Premier League's most divisive managerial figures, even Benitez's good work in making those changes was swiftly portrayed as bad. If Hazard was such a game-changing figure and the arrival of Mikel had enabled Ramires to exert even greater influence, surely it was a mistake not to start them?
Benitez's explanation was based in sound logic. Both had started the Europa League defeat to Steaua Bucharest in Romania on Thursday and needed rest as the Spaniard shuffled his resources, which also including leaving captain John Terry on the bench.
Ramires was able to release all his pent-up energy on a tiring opposition midfield with Mikel as Chelsea's insurance policy, and Benitez's side over-ran United to the point where if they had won it would have been no surprise.
And for a team accused of lacking fight and a willingness to battle for Benitez, Chelsea showed great resilience and passion. No wonder Benitez felt able to ignore the enticing prospect of a handshake, or not, with Ferguson at the final whistle to join his players on the pitch as they took the acclaim of a support who had been roundly abusing their manager only 40 minutes earlier.
It was all a far cry from the opening 11 minutes when Javier Hernandez and the recalled Wayne Rooney put United in control and Old Trafford was in unison as, somewhat unusually, both sets of supporters told Benitez "You're Getting Sacked In The Morning."
Not this Monday morning as Benitez can reflect on the success of substitutions that altered the course of this FA Cup quarter-final and which will give Chelsea genuine optimism that they can complete the job at Stamford Bridge and face Manchester City at Wembley in the last four.
Ferguson pointed at fatigue for the deterioration in United's play as the tie progressed. Benitez could counter - indeed he did - that while United played at home on Tuesday, Chelsea were playing away in Romania on Thursday.
Rooney's return after his exclusion against Real was an obvious talking point but he was quiet after his goal and, like most of his team-mates, was peripheral once Chelsea's changes made their impact. He was unsure of touch and almost disappeared from view in the second half.
Chelsea and Benitez took the honours. "The Interim One" - as he has been labelled by his detractors - will never win the hearts and minds of the majority of Chelsea's supporters.
There will be, however, days when even the most grudging Chelsea follower should offer Benitez credit. This was one of them.