Greg Abbott: Carlisle win against Brentford best of tenure
Last updated on .From the section Football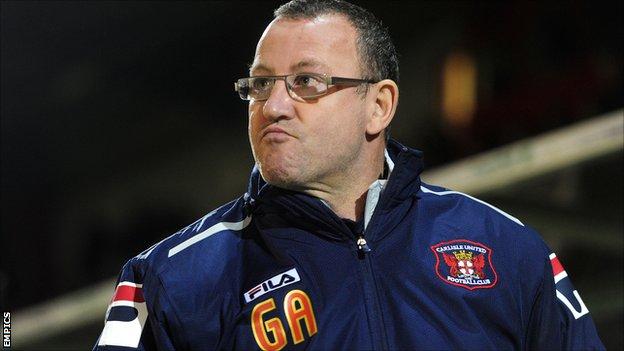 Carlisle United manager Greg Abbott has described as the best in his tenure.
Abbott has twice led United to Wembley but ending a six-game run without a win made the Bees victory sweeter.
"[It's] probably the best result since I've been manager at the club," Abbott told BBC Radio Cumbria.
"You have to put in context all the circumstances. We've kept them quiet, we've worked unbelievably hard."
He added: "We've got young players playing against real men, they're a really really strong team."
Injuries and suspensions have forced Abbott to turn to academy products to bolster the squad, with Mark Beck, David Symington and Brad Potts all coming into the first-team picture over the course of the campaign.
Beck in particular took the opportunity presented by Lee Miller's suspension, scoring his sixth goal of the season.
"I hope people go away from here thinking the future is going to be alright for the club," Abbott added.
"We've had a lot of obstacles thrown in our way but the group we've got are performing at a level beyond their station.
"It's fantastic for us, every minute they get on the pitch will be a massive benefit next season, we're seeing them develop and come through tough situations.
"We'll come out of this and be alright."