How did Uruguay lose status as world's best?
Last updated on .From the section Football62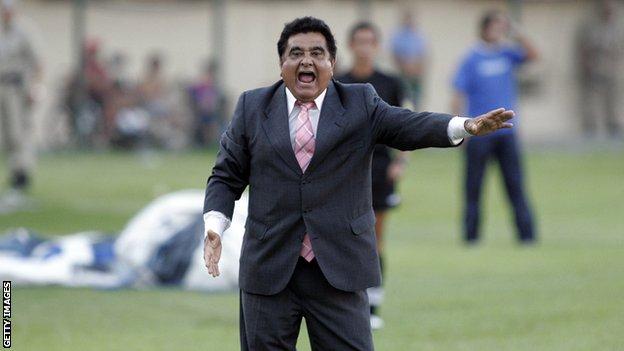 With his squat, frankly podgy build, Luis Cubilla was an inspiration to park footballers everywhere. But the Uruguayan winger, who died last week at the age of 72, was undoubtedly one of the greats of the game, with a long list of titles to prove it.
His life gives us the opportunity to trace the extraordinary development of the global game through the course of the 20th century.
When Cubilla was born in 1940, Uruguay had a claim to be considered football's number one country.
They won Olympic gold medals in 1924 and 1928, lifted the first World Cup in 1930, and had entered - and claimed - seven of the 15 Copa Americas.
Football was already a vital part of life in Uruguay.
The amazing thing, often taken for granted, is just how quickly this happened. After all, the generation of Cubilla's grandparents had been the first Uruguayans to take up the game in any mass sense.
How had they become so good so quickly? Rapid urbanisation and frequent, often annual Copa Americas had clearly fostered a climate for the game and improved standards in the southern half of the continent.
And in Uruguay there was the extra factor of enlightened social policies. Football in South America began with the European-educated elite.
In Uruguay it moved down the social scale very quickly. They were picking financially-poor players earlier than their rivals, drawing on potential from all walks of life.
But it could never last. Once football became a global phenomenon it was impossible for such a small nation to maintain supremacy.
At the age of 10, little Luis would surely have been listening to the radio when Uruguay came from behind to beat Brazil 2-1 in Rio to win their second World Cup in 1950. It was a magnificent achievement but the writing was already on the wall.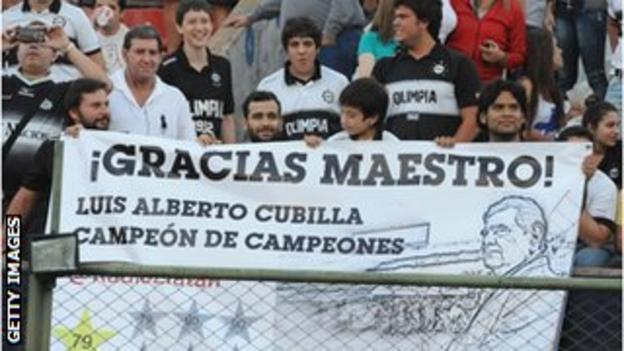 Before they had been the stylists. Now they were forced into a rearguard action, holding Brazil at bay and breaking out to win late on with a man of the match performance from right-winger Alcides Ghiggia.
Twenty years later Uruguay came close once more. This time, in Mexico, they met Brazil in the semi-final. Playing in the Ghiggia role, Cubilla put them ahead with a strange, subtle finish across the goalkeeper. This time, though, they could not hold out. Pele and co gained revenge for 1950, winning 3-1, and Uruguay's dark age had begun.
Confirmation of decline came four years later, when Uruguay fell at the group stages of the next World Cup. Cubilla's last start in an international came in the match against the Netherlands, where Uruguay were humiliated to an extent that the 2-0 scoreline does not begin to reveal.
Another defeat, 3-0 by Sweden, sent them home early, Cubilla coming off the bench to round off a Uruguay career that had started 15 years earlier and taken him to three World Cups.
Back home, some attributed Uruguay's awful 1974 showing to a single fact; for the first time, the squad had included players based abroad (three were in Brazil and one each in Spain, Argentina and Peru).
This had never been done before. Indeed, Cubilla missed out on a trip to England in 1966 because at the time, after a couple of years with Barcelona, he was in Argentina with River Plate.
It was just across the water from Montevideo, but not close enough to be considered for selection. Now, some saw the presence of "foreigners" as the key factor behind Uruguay's early elimination.
The real explanation, of course, was that the physical dynamism and tactical innovation of the northern Europeans had taken the game to a new level, just as the balletic skills of the Uruguayans had done in the 1920s.
Going backwards - restricting selection to domestically-based players - was clearly no solution, especially as the opening up of the global market meant that Uruguayan club football was condemned to lose its best players at ever-younger ages.
No solution appeared until seven years ago when Oscar Washington Tabarez took over as national team coach. A teacher by profession, Tabarez had spent years ruminating on the effect of globalisation on his county's football.
He set about using Uruguay's youth sides to produce "global" players - those blessed with enough speed (of movement, thought, of technical execution) to cope with top-class football.
But he also wanted to groom youngsters with a firm grounding in, and a commitment to, their country's footballing identity. They are given a crash course in sky blue history, the idea being that they are Uruguayans for life even if sold abroad before their 20th birthday.
As a player, the start of the career of Tabarez coincided with the end of Ghiggia's. He took over determined to play with wingers, and with the fixed idea that Uruguay's national teams at all levels would base themselves around the 4-3-3 system. It was, he thought, a vital component of Uruguayan DNA.
This dogma lasted all of one competitive game. Uruguay were beaten 3-0 by Peru in the opening game of the 2007 Copa America. "Reality was too strong for us," confessed Tabarez afterwards.
Uruguay have since adopted a more pragmatic approach, changing their formation in accordance with the opposition.
But there is some of the old style there to keep traditionalists happy. Cristian Rodriguez is left-footed where Cubilla was right.
And the current Atletico Madrid player is more versatile, able to operate in a more central midfield role as well as that of a winger. But with that stocky build, low centre of gravity and devilish unpredictability, Rodriguez is a worthy heir to the Cubilla tradition.
Comments on the piece in the space provided. Questions on South American football to vickerycolumn@hotmail.com, and I'll pick out a couple for next week.
From last week's postbag:
Q. Which is more damaging to national teams' performances in World Cups in the mid and long-term:
1) The recurrent players' exodus from their own countries, weakening the national leagues?
2) The excessive amount of foreign players in one specific country, say England, Spain or Italy? Leonardo Frascoli
A. A fascinating question, which has much to do with the themes I've tried to explore in the last two columns. I'm not sure there is a right or wrong answer. I think it depends most on how the question of footballing identity is handled.
Both exporting and importing threaten the question of identity. But with clear thinking and good coaching it can be resolved. Take Argentina in 2006, for example. Almost everyone was playing in Europe, but when they came together they were instantly recognisable as Argentina, full of players schooled by coach Jose Pekerman in the youth ranks.
The other side of the story is that in the midst of an import culture, Spain have been remarkably successful at cultivating an identity. And the recent resurgence of Germany started with Jurgen Klinsmann making this central to his whole approach when he was building for the 2006 World Cup.
Everything stemmed from the first building block -the idea that, as Germany, they should be playing high tempo, aggressive and attacking football. Perhaps lack of identity has been one of England's problems.
Q. Dorlan Pabon of Colombia is creating a fair amount of excitement at Real Betis after his fantastic performance last week, scoring two goals against Real Sociedad. It's early days for him in Spain and he's only on loan from Parma. What do you make of him? What are his chances in the national team? Max Green
A. It's a big surprise to me that he didn't come off at Parma. I think he's an excellent right-sided attacker, bullet fast and strikes the ball like a mule.
He began the World Cup qualification campaign in the Colombia team, and scored a couple of goals. Under Pekerman, though, he's been on the bench. Results have been good and there are plenty of other good strikers available. But in form and with his confidence back he's a very useful option to have in reserve.
Tim Vickery is a regular guest on BBC radio 5 live's World Football Phone-in, which is available to download as a podcast.