Guernsey FC face 'frightening' fixture list says Colin Fallaize
Last updated on .From the section Football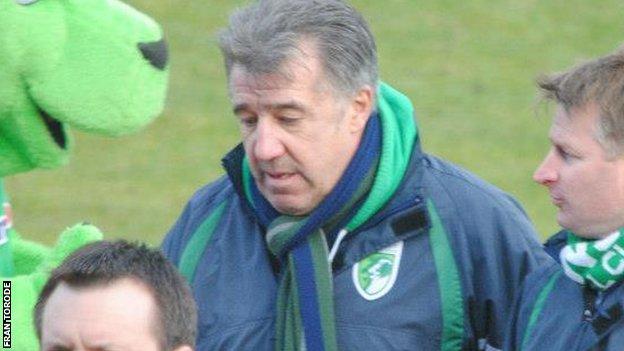 Guernsey FC have a "frightening" set of fixtures ahead of them according to assistant manager Colin Fallaize.
Guernsey face a two-legged FA Vase semi-final with Spennymoor Town later this month as well as 21 league games between now and the beginning of May.
"What we have ahead is just frightening," he told BBC Guernsey.
"I have to say that this competition is fantastic, but if you take a look at our fixtures I'm frightened that one is going to destroy the other.
The Green Lions on Saturday.
It means Guernsey FC face a huge fixture pile-up thanks to a combination of their Vase run and bad weather in December and January which forced nine league games to be called off.
"I'm totally excited that we've got the opportunity to play in this FA Vase, but if I'm realistic I look at the fixture list and think 'oh my god'," Fallaize added.
"I knew it was going to be difficult but I had no idea that the commitment was going to be so high and the intensity with the fixture lists through the weather and our success, is creating an almost impossible situation.
"I've got to be honest, you take one look at it and you think 'that's not right'.
"This opportunity is fantastic, but the goal is still to try and get out of this league, but it's looking difficult at the moment."