Conference season will not be extended to cope with backlog
Last updated on .From the section Football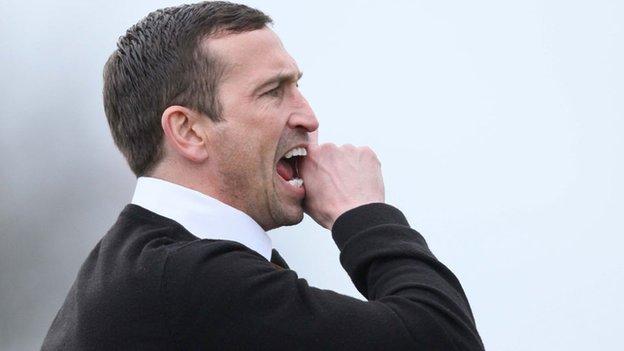 The Blue Square Bet Premier season will not be extended to cope with a fixture backlog.
Football Conference general manager Dennis Strudwick says the final matches must be completed on 20 April.
"It [an extension] wouldn't be fair on the other clubs who've managed to get all their fixtures played," he said.
Strudwick claims there is not enough time between the final round of matches and the promotion play-off final to fit in outstanding games.
"Wembley Stadium is booked for the play-off final for Sunday 6 May, so we've got to get four semi-finals played in the interim," he said.
"Even that leaves us with just seven days from the second leg of the semi-finals to the final to arrange a match and everything that goes with it for 40,000 people."
Newport manager Edinburgh said last week he feared his team would have to play four matches in eight days at some point before the end of the season.
However, three teams are in a worse position that fourth-placed Newport.
Braintree have 14 matches left, while Dartford and Gateshead each have 13 left to play.
And leaders Wrexham's trip to Lincoln on Tuesday evening will be subject to a morning pitch inspection.
A postponement would leave Wrexham with 11 matches to complete in 35 days from Saturday, with one weekend already taken up with the FA Trophy final against Grimsby on 24 March.