Blue Square Bet Premier: Chief cautious over third promotion spot
Last updated on .From the section Football24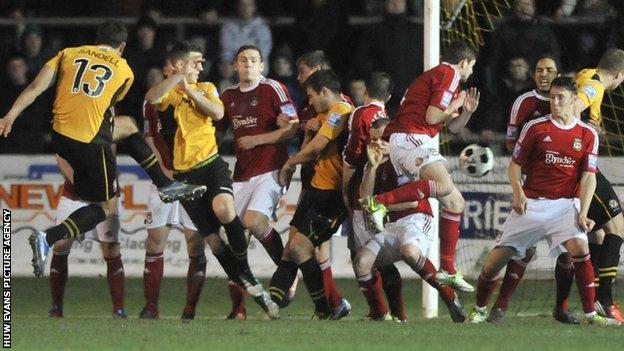 The Blue Square Bet Premier is unlikely to be given a third promotion place, says general manager Dennis Strudwick.
He has confirmed that the division made a request for an additional promotion place, but said the decision was up to League Two clubs.
"It would mean three down from the Football League, and turkeys don't vote for Christmas," he said.
Last week Newport manager Justin Edinburgh called for more Conference teams to be promoted.
Only one club is currently guaranteed promotion from the highest tier of the non-league pyramid, with the the second spot decided by a play-off.
Last season Wrexham lost out in the play-offs after finishing second in the table with 98 points, with fourth-placed York returning to the Football League following a nine-year absence despite accumulating 15 fewer points.
The north Wales club currently top the table, but the leading four teams are separated by only four points.
Strudwick believes Blue Square Bet Premier deserves a third promotion place, with the teams finishing first and second in the table going up automatically.
However, he warns it might be a slow process.
"It won't happen overnight," he said. "The Football League knows where we're at in as much as we've asked for three-up and three-down, two being automatic and one from the play-offs.
"So it's probably a dripping tap campaign. It's a campaign that we carefully need to manage."
There was no automatic promotion into the Football League until 1987.
Scarborough were promoted that year, and there was a 16-year gap before a second promotion spot was granted with Yeovil and Doncaster Rovers gaining places in the Football League.