Chris Waddle: Gareth Bale will never play for Wales in World Cup
Last updated on .From the section Football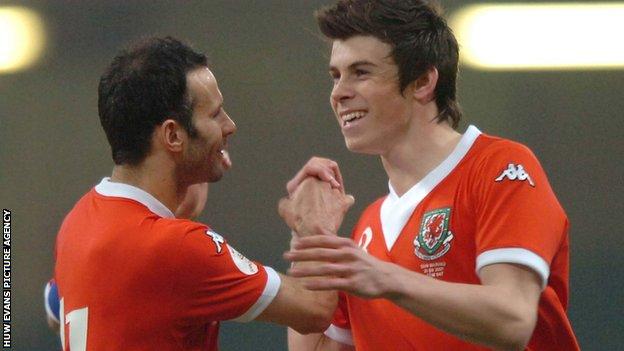 Wales' Gareth Bale will suffer like countryman Ryan Giggs and never play in a major tournament, says Chris Waddle.
Waddle claims Bale will have to focus on his club career if he wants to win trophies.
Giggs, who is British football's most decorated player, never played in a World Cup or European Championship.
"It's like Ryan Giggs, it's sad when major players cannot play in a major tournament for their country," said Waddle.
"Because someone like Gareth Bale at a World Cup or in the Euros would be very exciting.
"That is why club-wise, it will be very important to him to win honours in the years to come."
Wales have failed to reach a major international tournament since they played in the 1958 World Cup in Sweden.
Bale recently signed a new deal committing him to White Hart Lane until 2015 during Tottenham Hotspur's solitary Champions League campaign in 2012.
Bale, 23, has been the talk of the Premier League with his form for his club Tottenham Hotspur in the Premier League and in Europe.
The young Welshman has been linked with a move away from his club, with Real Madrid, Barcelona and Manchester United all talked about as possible destinations.
Waddle, who played for England in the semi-finals of the 1990 World Cup, knows what it is like to leave White Hart Lane in a big-money move to an European club.
He left Spurs in 1989 for Olympique de Marseille in France for £4.5m, the third highest transfer fee paid for a footballer at the time, and helped the French side win the championship three times.
But Waddle, who won 62 England caps and played 138 times for Spurs, believes Bale has time on his side before he has to consider his future.
"I think there is plenty more time for him to improve his game over the next two to three years," said Waddle.
"The key thing, from personal experience, I went to play for clubs who played attractive football and played a certain way.
"I think Gareth Bale has to be at a club that plays a certain way. He has to look at that. Yes, money is important because football is a short career.
"For me, he has to go to a club which is going to make him a better player."
Bale's recent performances have seen him being Bale's recent performances have seen him being compared with two of the world's greatest players Barcelona's Lionel Messi and Real Madrid's Ronaldo.
While Waddle says he understand why the comparisons are being made with Bale and Ronaldo and Messi, he does not believe the Welshman is at their level.
"Gareth Bale looks like he is going to score every game," said Waddle.
"So you are talking that level then, Ronaldo and Messi, but he has to maintain that if he wants to be in that category.
"I would say those two are definitely better players at the moment, but in two year's time, if he keeps playing like this, there is no reason why we cannot put him in that bracket."