Blackpool chairman Karl Oyston says ticket cut is to thank fans
Last updated on .From the section Football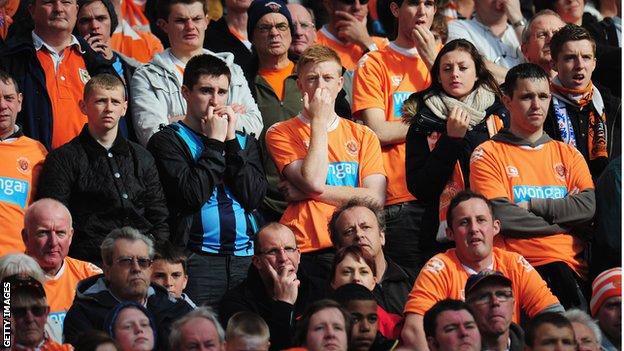 Blackpool chairman Karl Oyston has revealed their decision to cut season ticket prices was to thank fans for what has been a difficult season.
The deal also ties in with the anniversary of their 1953 FA Cup final win, dubbed the 'Matthews Final'.
"It's to reward supporters for what's been, to us, a disappointing season," Oyston said.
"We've had pretty well documented problems with the playing surface and obviously two unwanted managerial departures.
"I think we just felt it was important, particularly in the economic climate, that we gave the supporters a thank you for their loyalty.
"We value the support, the atmosphere they create and next season with a decent playing service, some new recruits and Paul having had time to bed in and introduce his own ideas, I think should be set fair for a better season."
Blackpool recently posted over £15m pre-tax profit for the last financial year and Oyston has promised to continue to invest funds into the club, such as the new training facilities.
Having seen Ian Holloway left Bloomfield Road in November for Crystal Palace and his replacement Michael Appleton lasted just nine weeks before taking over at Blackburn, Oyston is now optimistic about the club's future under former England captain Paul Ince.
"Paul's started very brightly, we're very pleased with the culture he's introducing to the club, which will take time," Oyston told BBC Radio Lancashire.
"It's well known we've got a lot of contracts to discuss with Paul when he's ready to with players that are here and obviously some players that we will have to bring in.
"The company has done well financially so this is something that we can afford to do and I think you can't underestimate the current economic climate."