Ayew brothers reject Ghana FA plea to end retirement
By Michael Oti Adjei
BBC Sport, Accra
Last updated on .From the section Football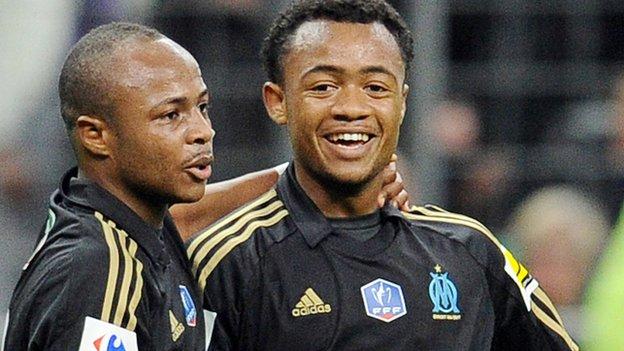 Andre and Jordan Ayew have turned down a plea from the Ghanaian Football Association for the pair to come out of international retirement.
The brothers stated two weeks ago that they were temporarily withdrawing their services from the Black Stars after being left out of the 2013 Nations Cup in controversial circumstances.
The GFA wrote to the pair asking them to reconsider their decision.
But the brothers say they are sticking by the decision - at least for now.
Forward Dede says while he will be happy to discuss the issues he says has triggered the retirement, he does not give a specific date for when he will make himself available for Black Stars selection again, only saying he will revert in due course on the issue of his availability for national team due.
Midfielder Jordan insists that he will make his himself available for selection at some point but not now.
The issue effectively rules the brothers, who both play for Olympique Marseille, out of the 2014 World cup qualifier against Sudan on 24 March but with Ghana to play again, there could be plenty of time in June for the GFA to convince them to return.
Dede also turned down a meeting proposed by the GFA to discuss his disagreements with the body.
"I am most sincerely grateful to the GFA for expressing its desire to address the issues that provoked my decision... time definitely definitely heals wounds", the 2011 BBC African Footballer of the Year said.
The Ayews are the latest high profile players to put a temporary hold on their international careers for Ghana in a disturbing trend.
Real Madrid star Michael Essien has been on a temporary break from international duty for more than a year now. AC Milan's Kevin-Prince Boateng quit entirely in 2011 while captain Asamoah Gyan took a break after the 2012 Nations Cup before returning as captain later that same year.