John Collins - the Team Talk XI
Last updated on .From the section Football8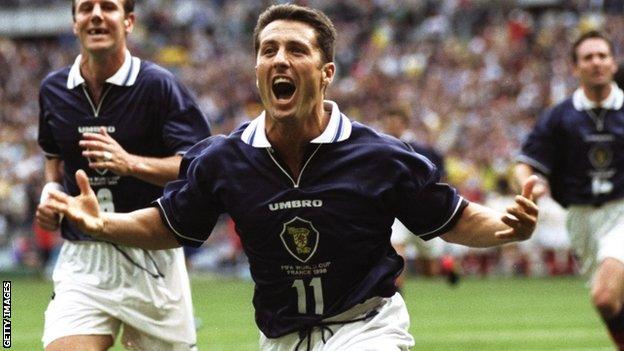 Former Scotland midfielder John Collins picks his Sportsound Team Talk XI, based on his playing experiences at international level and also at Hibernian, Celtic, Monaco, Fulham and Everton.
Goalkeeper - Edwin van der Sar
It was a really tough choice because I played with and against Andy Goram on numerous occasions and he was class. And, at Monaco, there was Fabien Barthez. They were all great shot-stoppers and what makes them special for me is that they were all fantastic with their feet. They could deliver a pass into midfield and start an attack. Edwin just shades it. He was a class act, made for the big time.
Right-back - Willy Sagnol
I played with him during my second season at Monaco. He went on to win over 50 caps for France and played at Bayern Munich for 10 years. He was so comfortable on ball, played it into midfield and would overlap at every opportunity.
Central defence - I played with Richard Gough for Scotland and again at Everton when he was 37. When he was at Rangers I knew he was a great player, a real competitor but playing alongside him I soon realised how good he was. He was wonderful in the air in both boxes, always a threat at set-pieces. And he was always talking, which is a big part of defending. A real winner.
Then there's Franck Dumas. If it wasn't for Laurent Blanc, this guy would have had 50 caps for France. He was such a composed sweeper, never flustered, used the ball well. He very rarely came off the park with any dirt on his shorts because he was such a great reader of the game.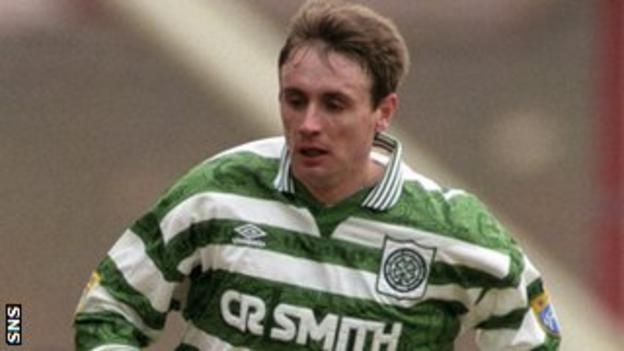 Left-back - Tom Boyd
This was a straightforward choice. I love full-backs that get forward. He had such great energy. When I received the ball playing for Celtic and Scotland I took it inside and he was always flying on the outside. Very few players managed to dribble past him, he was a good tackler. He was a quiet guy off the park but he was grumpy on the pitch - he hated losing goals, even in training.
Midfield three - Paul McStay, Gary McAllister and Enzo Scifo
These guys could all shoot, all pass, all win the ball and all of them were real team players. They held the shape for the team but when in possession they could all play a killer pass and wanted the ball in tight situations. In his heyday, McStay was a wonderful player and a real gentleman. I'm sure he had opportunities to join top teams elsewhere but he was devoted to Celtic.
McAllister enjoyed a long career, coming back stronger from a serious knee injury that meant he missed the 1998 World Cup. He had a great range of passing and was very elegant. He played with a periscope on the top of his head; always scanning the pitch. The ball was at his feet but his head was up. He was so consistent; he never had bad games.
Scifo was so well balanced, two-footed and the ultimate professional in training. I had one season with him at Monaco and he was a joy to play with and train with. When I joined Monaco there were 20 internationals fighting it out for the first team. Everything was stepped up a gear on the pitch and off the pitch.
Front three - Sonny Anderson, David Trezeguet and Thierry Henry
This was really tough since it meant leaving out Maurice Johnston, Ally McCoist, Frank McAvennie, Louis Saha and Steve Archibald, who was such a clever, confident player when he came to Hibs. But I had to go with three of the players who shone during my time at Monaco.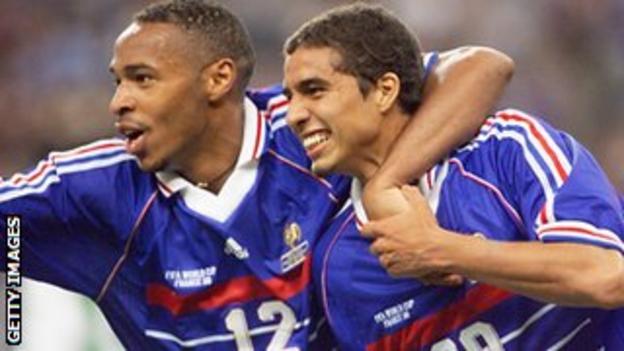 Anderson was a Brazilian international who would go on to Barcelona. He could finish with his left and right. Hold the ball up, win it in the air and play passes. He could do the lot. And he did it at lightening pace.
And then there were two kids called Trezeguet and Henry. In my first season they were in and out of the team but by the second season they were regulars. They were last off the training pitch every single day. When I left in 1998 I knew they would both grace the top leagues and score goals. Henry played wide left, outside me, and he had unbelievable pace. He was a little one-footed but he worked on his left. He always wanted to listen, wanted to get better - that's what you want from a young player. Trezeguet was just a natural finisher, no great pace or tricks but when the ball came into the box - one touch; goal. He was always composed at key moments, even as a young player.
At Monaco we had a 75-year-old kit man and the rule was that the two youngest players would take the hamper on and off the team bus. Those two did it for the whole season with smiles on their faces and at the end of that season I saw them picking up their World Cup winning medals!
Manager - Jean Tigana
My most successful period as a player was under Jean Tigana. He was not a great tactician, not a shouter. He was always relaxed, he just said 'play, pass and move'. There was nothing complicated about him. He kept it simple.
I won a French title, and we reached the semi-final of the Uefa Cup and Champions League. Then we walked The Championship with Fulham and got them back into the Premier League where they have been ever since.