Barcelona v AC Milan: win banishes doubts - David Villa
Last updated on .From the section Football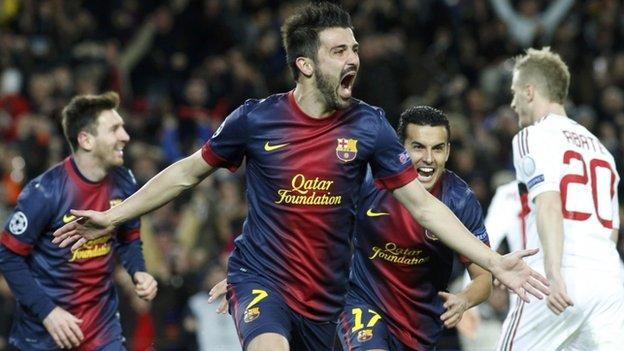 David Villa believes the historic comeback win in the Champions League against AC Milan has banished any doubts about Barcelona's recent form.
Striker Villa, 31, scored as his side became the first in the competition to overturn a 2-0 first leg away loss.
That setback in Italy was followed by back-to-back defeats by Real Madrid but Villa said: "When you go through that, the bad days are forgotten.
"We do not care who we get in the quarter-finals."
Barca had started the season in record-breaking form under manager Tito Vilanova before his absence due to cancer treatment coincided with a run of results in which they went 13 games without a clean sheet, were knocked out of the Spanish cup by rivals Real and lost to Jose Mourinho's outfit in the league.
The criticism that had been directed at them under the control of stand-in coach Jordi Roura was answered in a stunning round-of-16 second-leg display which began when Lionel Messi scored the first of his outstanding double in only the fifth minute.
This was later added to with two expertly crafted second-half strikes from Villa and rampaging left-back Jordi Alba.
"We have seen the return of the old Barcelona and now we need to continue in the same vein," Alba said.
"With what remains of the season we need to keep playing with the same enthusiasm, intensity and hunger we showed today."
The scale of Barca's victory has seen them reinstated as leading contenders for the Champions League but Roura attempted to calm expectations.
"Before we weren't so poor and now we are not so great and I wouldn't describe ourselves as favourites for the competition," Roura said.
"At any stage of the game until the final goal we could have gone out if we had conceded, and I would have said the same, that we played well and were composed."
Although disappointed to go out after his team's exploits at home, AC Milan head coach Massimiliano Allegri was circumspect in his evaluation of the tie after he had been left with an inexperienced squad following the summer exits of leading players such as Thiago Silva and Zlatan Ibrahimovic.
"It has been an extraordinary match from Barcelona but this is not the disastrous result it will may be depicted as, but a chance to grow," the 45-year-old said.
"To lose and go out after the first leg we produced at home upsets all of us but the lads shouldn't beat themselves up."