Barcelona v AC Milan: The secrets behind Barca's historic win
By Andy West
Spanish football expert in Barcelona
Last updated on .From the section Football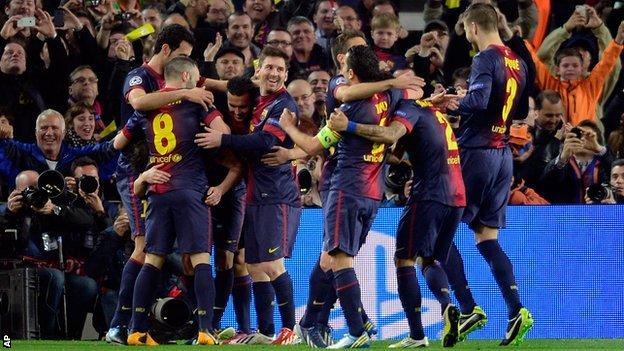 Three defeats and three poor performances, against AC Milan and Real Madrid (twice), in the space of 11 days had resulted in speculation that Barcelona were in demise and that Pep Guardiola's departure last summer had signalled "the end of an era".
On Tuesday, however, Barca answered their critics in the most emphatic manner possible, delivering a sublime performance to thrash AC Milan 4-0 and surge into the quarter finals of the Champions League.
But how did they do it?
Formation switch
The starting point was a subtle change in their playing formation. Instead of their standard 4-3-3, with Lionel Messi as a deep-lying 'false nine' central striker, they lined up with a 3-4-3, based on a three-man defence of Javier Mascherano, Gerard Pique and Jordi Alba.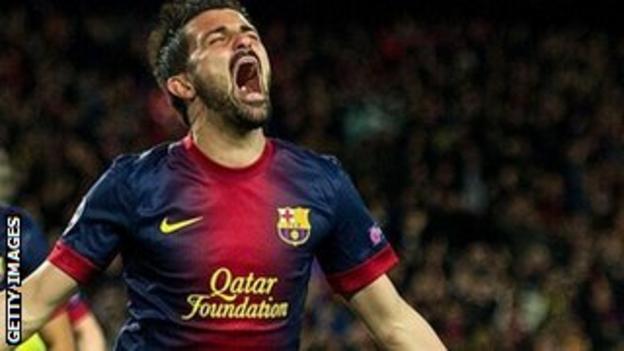 The midfield four can best be described as a diamond, with Sergio Busquets at the base, Andres Iniesta and Xavi more advanced and Messi at the tip - although he had plenty of freedom to roam.
Then came the front three: David Villa through the middle with Dani Alves and Pedro hugging the right and left touchlines respectively.
The essential difference from their normal approach was the traditional centre-forward role played by Villa, who has previously filled a left-wing berth in the 4-3-3. This was crucial because it kept the Milan centre-backs occupied rather than allowing them to concentrate solely on Messi.
The Argentine's slightly deeper position also gave Barcelona an extra man in midfield, outnumbering Milan's defensive central trio of Massimo Ambrosini, Mathieu Flamini and Riccardo Montolivo by giving them four Barca players to contain.
Something had to give. With a striker and four central midfielders to combat, Milan attempted to contain those central areas but that came at the expense of leaving space on the flanks, especially for Alves on the right.
Return to high pressing
Whatever system you use, you still need players to perform well, and the next key to Barcelona's display was their pressing high up the pitch.
This tactic - working furiously as a team to pen the opposition deep into their own half and deny them any space to easily escape - has been a central element to Barcelona's play in the last few years.
No other team has worked harder or more cohesively without the ball, pushing the whole team high up the pitch and showing a jealous insistence that they simply must win back possession as close to the opponent's goal as possible.
In recent weeks, however, standards had been slipping and many observers noted that Barca's pressing had become more casual. Opponents were being afforded the rare luxury of time on the ball as the Catalans appeared less obsessive about winning it back immediately.
But on Tuesday, right from the opening whistle, it was clear that Barcelona had rediscovered their appetite for intense pressing.
Milan were penned back deep into their own half and forced to play the ball under pressure, which repeatedly resulted in the Italians conceding possession cheaply in dangerous areas. Indeed, two of Barca's goals (the second and third) resulted directly from winning the ball inside the attacking third.
High-speed passing
The final part of Barca's jigsaw came with their own use of the ball. The 'tiki-taka' short passing game is only effective if it is executed at high speed, creating gaps in the opposition defence by pulling them out of position with rapid one-touch passing movements.
In recent weeks, Barcelona had been moving the ball too slowly, with attacks constructed in a leisurely fashion which allowed defenders to maintain their shape and deny the necessary space for goal-scoring chances.
Orchestrated by the peerless Xavi, though, Tuesday's performance saw a return to the high-tempo, fast-flowing approach play that has become a trademark of their game.
The opening goal is a classic example: Busquets to Messi to Xavi to Messi, all played with crisp one-touch passes, enticing the Milan defence ever so slightly out of position and creating the tiny window of space that Messi needed to shoot.
Summarised, then, Barcelona's performance came down to three essential factors: a tweaked formation to advance into attacking areas; fast passing to create goalscoring chances, and ferocious pressing to deny Milan possession.
Lionel Messi
There was, of course, also a fourth factor: Lionel Messi.
The Argentine's first goal, which set the tone for the remainder of the evening, was simply breathtaking.
Yes, the fast-passing combination with Busquets and Xavi created some space for a shot... but not much. Would any other player in the world have scored from that position? Most wouldn't even have been able to get a shot away, but Messi's astonishingly fast feet enable him to generate power and accuracy without backlift, unleashing his left-footed missiles even with just the tiniest fraction of time and space.
As brilliantly as Messi played, though, this shouldn't be regarded as a one-man show. Recent games have demonstrated that Messi isn't good enough to rescue Barcelona when the rest of the team performs poorly.
This was an all-round performance. Barca's strategy might have been designed with Messi in mind, purposely aimed at giving their biggest star the chance to perform his match-winning heroics, but it needed 10 other players to perform their duties as well. And boy, how they delivered.
After that, one thing is for sure: we won't be writing Barcelona off again.