Inter Milan-Tottenham: Italian side's boss vows to win second leg
Last updated on .From the section Football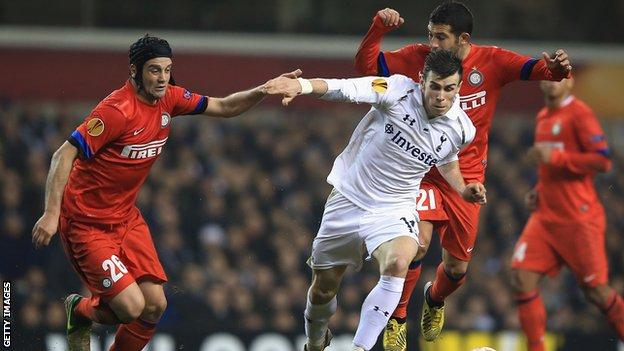 Inter Milan coach Andrea Stramaccioni says he does not fear the sack as his side again prepare to face Tottenham in the last-16 of the Europa League.
"Football is strange. 3-0 is difficult to overturn, but we'll be taking to the field to win," Stramaccioni said.
"We want to do well in front of our fans and win the game, and then as far as qualifying for the next round is concerned, we'll have to see."
Inter are fifth in Serie A table after a 1-0 home defeat by Bologna and Stramaccioni admitted: "There's no point denying it - we're not playing well at present and it's up to me, as the coach, to find the way to give my players more security, which they don't have."
"I cannot say that I have not always felt 101% support from the president [Massimo Moratti], but at the end of the day, he is the president and he can make any decision he wants. But I don't get the feeling he wants to get rid of me.
"In fact, I can say that the encouragement and support he gives us in difficult times like this is even greater than when things are normal."