Accrington Stanley fail to pay some players on time
Last updated on .From the section Football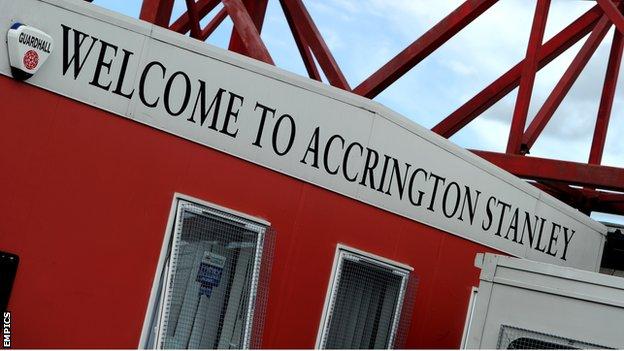 Accrington Stanley have revealed they failed to pay some of their players because of a cash flow problem.
Managing director Rob Heys said early and unexpected bills were to blame for the unpaid wages and that fans did not need to worry.
"We have paid some wages at the moment, but we haven't paid them all," Heys told BBC Radio Lancashire.
"Wages were due as of 1 March but fortunately we have managed to sort the funding from the current board."
Accrington Stanley were formed in 1968 after the original club were forced into liquidation due to financial problems two years previous, having resigned their place in the Football League midway through the 1961-62 season.
However, since re-entering the League in 2006 following promotion from Blue Square Bet Premier, the club have struggled with their finances, due in part to some of the lowest attendances in League Two.
The Football League's basement side saw ex-chairman Ilyas Khan quit last May after investing more than £2m in the football club over 20 years.
Khan, an investment banker who spent two decades in Hong Kong, donated around £250,000 to prevent Stanley from being wound up four years ago because of an unpaid tax bill.
"It's tremendously difficult trying to to keep a League Two football club going," Heys continued.
"Credit to all the players and staff - to be fair, they've all carried on working. Everyone who works here goes over and above what they've been asked to do.
"It's not acceptable, we're not making excuses, and it's credit to Lee and the players that they haven't used it as an excuse for results not going our way.
"We have got the lowest gates and the smallest wage budget and it is a battle to stay in League Two, but it's where we want to be.
"We accept that battle because if we wanted an easy life we'd drop down a couple of levels.
"It is just a case of these wages. We're full up to date with HMRC and our usual creditors - it's just a matter of getting these wages paid."
Following their 3-0 loss at home to Fleetwood on Tuesday night, Stanley are bottom of the division and have struggled under manager Leam Richardson in 2013, taking just 10 points from their 12 games.