Shane Lowry excited by Millwall's Wembley FA Cup semi-final
Last updated on .From the section Football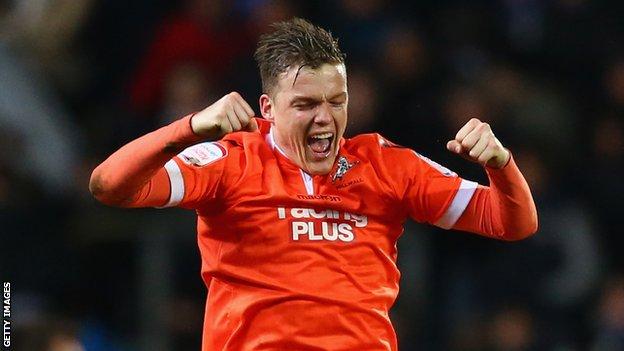 Millwall defender Shane Lowry is relishing the prospect of a trip to Wembley for their FA Cup semi-final against Premier League Wigan.
"I come from Australia and I used to get up early in the morning and watch all the FA Cup finals.
"I remember watching Millwall against Manchester United [in 2004] and wishing I could get there as a footballer. Now I have and I will enjoy the occasion."
The Lions progressed to the last four by beating fellow Championship side Blackburn Rovers 1-0 in their sixth round replay on Wednesday.
"Our objective was to do whatever we could to get the win and progress through to Wembley," Lowry continued.
"Over the course of two lots of 90 minutes I think we were the better team and deserved to go through.
"But at the same time we need to get our league form right and concentrate on that first. Staying in the Championship is still a priority."
The Lions have reached the semi-finals five times in their 128-year history, but have only progressed to the final itself once in 2004.
"For a Championship club, we are not one of the big ones," said Gallen.
"Every game we play in we are probably up against it, in terms of the size of the club we are up against.
"When you see the names that are still in it, with Manchester United, Chelsea, Manchester City and Wigan, and then you see us, it doesn't look quite right."
However, he is optimistic of their chances against the Latics next month.
"We have a fantastic manager [in Kenny Jackett] and once the game comes around he will come up with a gameplan and we'll be trying to execute it. On any day some teams can overachieve," Gallen added.
"We will be underdogs in that game. Wigan are a Premier League team and what they spend on wages and players dwarfs us.
"We like being the underdogs and we'll go there and give it our best shot.
"In the meantime there are a lot of league games for us to perform in and pick up some points."