PSG v Barcelona: The buyers v the builders
By Matt Spiro
French football writer
Last updated on .From the section Football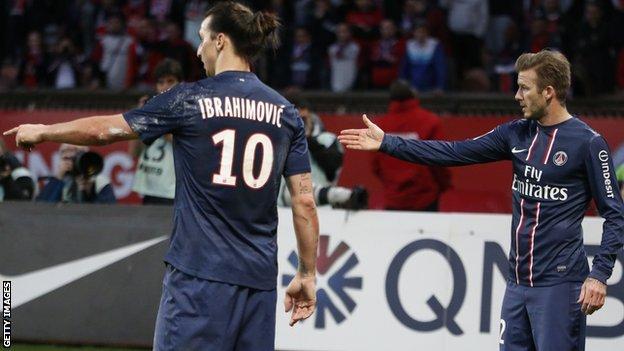 David Beckham could be forgiven for feeling apprehensive at the thought of renewing a midfield rivalry with Andres Iniesta and Xavi nearly six years after leaving Spanish football.
Three years ago, when Paris St-Germain were meandering towards a 13th-placed finish in France's top tier, few could have imagined they would ever be in a position to rival Barcelona.
A sudden, dramatic investment of more than £200m on new players following Qatar Sports Investment's (QSI) takeover in 2011 has seen the two-time French champions metamorphose into a team capable of competing with the very best.
Make no mistake: the current Ligue 1 leaders, trained by Carlo Ancelotti and led by arguably the best defender in the world, Brazil captain Thiago Silva, will feel they have a genuine chance of upsetting the competition favourites in what looks to be the most intriguing of the quarter-final ties.
The modern-day PSG could hardly be more different from Barcelona.
While the former was only founded in 1970 and is still seeking its true identity, the latter is 114 years old and regarded as both a national institution and cultural symbol.
The Qatari method of throwing huge sums of money at the club in the hope of creating a European superpower in extra-quick time contrasts with Barcelona's recipe for success, based upon youth development and an unwavering faith in their footballing philosophy.
Barcelona, too, have been helped on their way by big-money signings in recent years. Ironically, the £40m acquisition of Zlatan Ibrahimovic will line-up against his former employers in two weeks' time.
But the strategy of two marque signings per season does not compare to that of the Qatari investors.
It is a clash of cultures that is reciprocated, albeit in less extreme fashion, in another interesting last-eight tie between Malaga - a club also influenced by Qatari investment - and Jurgen Klopp's free-flowing Borussia Dortmund side.
In both instances, the traditional powers will be expected to overcome their "nouveau riche" opponents - yet neither are foregone conclusions and PSG are relishing this opportunity to show Europe just how far they have come.
"C'est magnifique," was Ancelotti's reaction to Friday's draw. "Barcelona are favourites, but I have confidence in PSG and I'm sure we'll have our say."
Ancelotti's belief stems from his own fine track record - the Italian twice won the competition as AC Milan coach and has overseen victories in five quarter-finals out of seven - but also the knowledge his team tends to save its best football for Europe.
Unlike the Catalan outfit, who are coasting towards the Spanish title, PSG are only four points clear of Lyon in France having already lost to Sochaux, St Etienne, Rennes, Nice and Reims.
Sporting director Leonardo was accused of arrogance when, after the most recent defeat at lowly Reims, he claimed PSG are "a team built for Europe", implying that they find it difficult to motivate themselves when playing on poor surfaces against lesser teams.
Yet the evidence suggests he is right. They have often appeared disjointed in Ligue 1 matches, and sometimes even disinterested, relying heavily on Ibrahimovic's brilliance to secure results. Fortunately for PSG, the Swede's contribution of 24 goals in 25 appearances has kept them on course for a first title since 1994.
It has been a different story in Europe, however, where Ibrahimovic has scored only two of PSG's 17 goals. That is not to suggest the talismanic forward has underperformed. After all, he has also contributed five assists. Rather the likes of Javier Pastore, Ezequiel Lavezzi, Lucas Moura and Jeremy Menez have upped their games in the Champions League, ensuring PSG are a far stronger collective proposition in this competition.
After winning their group ahead of FC Porto, Ancelotti's charges turned in their best performance yet away to Valencia in the round of 16 first leg.
Ten days earlier, Valencia had held Barcelona to a 1-1 draw at the Mestalla, but with new-signing Beckham watching on from the stands, PSG blew the Spaniards away in the first half with a series of lightning counter-attacks.
Inspired by the skill and direct running of Brazil midfielder Lucas, Lavezzi and Pastore both scored, and the visitors should have finished the tie off in a second half they also controlled impressively.
Poor Parisian finishing kept Valencia alive, though, and when Adil Rami's late goal was followed by a red card for Ibrahimovic, the Spaniards had their lifeline. Although Ancelotti's charges prevailed 3-2 on aggregate, they laboured in the return without Ibrahimovic - and may yet live to rue the ex-Milan striker's suspension.
Indeed, unless PSG's appeal to Uefa is successful, Ibrahimovic will also sit out the first leg against Barcelona at the Parc des Princes on 2 April.
The 31-year-old would dearly love the chance to show his former employers what they are missing. Ibrahimovic helped Barca win the title during his one season there, scoring 16 league goals in 2009/10, but he was never happy in Lionel Messi's shadow and wrote in his autobiography that leaving for AC Milan felt like "being released from prison".
PSG will hope to conserve their chances ahead of the second leg, thus offering Ibrahimovic an opportunity to haunt the Nou Camp on 10 April and keep alive his own personal chase for a first European title.
Against Valencia, Ancelotti replaced Ibrahimovic with an extra midfielder rather than picking France forward Kevin Gameiro. Against Barcelona, he is likely to opt for a 4-5-1 formation again, with an in-form Lavezzi playing through the middle.
That would free up the possibility of Beckham featuring in the heart of midfield in a competition he won with Manchester United 14 years ago. With Thiago Motta struggling with injury again, the former England captain could be selected alongside Marco Verratti and Blaise Matuidi in the centre.
"Beckham's experience could be important," Ancelotti said earlier on Friday.
It would represent a remarkable renaissance for Beckham, and possibly the biggest challenge of his career so far. However, aided by Matuidi's energy and Verratti's talent, the 37-year-old may well prove capable of exerting influence once more against the best midfield in the world.
A fanciful thought? Perhaps. But since the Qataris arrived, the Paris public has started to believe anything is possible.