Liverpool: Has Brendan Rodgers made the Reds a better team?

Last updated on .From the section Football905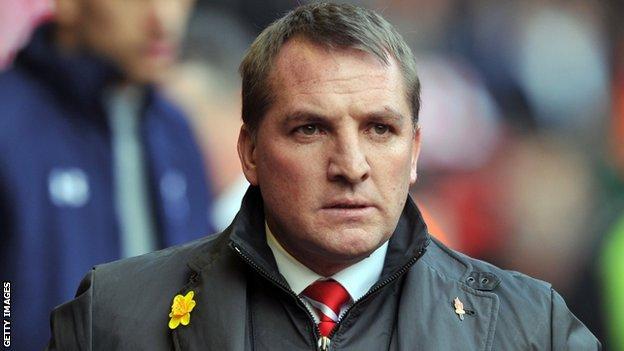 In pre-season, Brendan Rodgers gave John W Henry, Liverpool's principal owner, a 180-page manifesto.
The document outlined the 40-year-old's grand vision for the club, forensically detailing his desire to play "attractive, attacking football".
It laid out his footballing ideology, detailed a commitment to winning trophies and spoke of a desire to "bring through as many young players as we possibly can" in a season that would mark a starting point, in which the club would take a stride in the right direction.
Eight months have passed and the Liverpool enigma continues to reverberate around the city. Overcoming an in-form Tottenham Hotspur one minute, embarrassed by Southampton the next - consistent inconsistency that means everything about Liverpool under Rodgers is still under debate.
His detractors question his pedigree and ability to set a team up able to withstand pressure. His admirers talk about vision and philosophy in good times and bad, maintaining that even in defeat Liverpool are playing the right way.
Bill Jamieson, 67, has seen it all before during what he describes as a lifetime following the club.
He sits on the St Luke's Church steps at the top of Bold Street, a copy of the Liverpool Echo under his arm, cup of tea in his hand. "It's the hope that kills you," he says. "You're up and then down. Down and then up. I like what Brendan Rodgers is doing, or trying to do. But what this season has told me, is that it is going to take time."
The narrow victory over Spurs, coupled with emphatic wins over Swansea,Norwich and Wigan had raised the spectre of a late charge towards the European places, convincing many this is an improving Liverpool team. One that was starting to ally talent to tenacity, resilience to raw potential.
But the desperate defeat by Southampton undermined that optimism. It was a result that epitomised the club's faltering progress - style but no substance, beauty but no brawn, panache but no penetration.
Outside the club shop in William Street, Tony Williamson is with his seven-year-old son, Steven. The youngster has a Liverpool scarf around his neck. "We haven't made it easy for ourselves this season," says Tony. "At times we have fallen apart, we have looked so mentally fragile. There have been low points - Southampton away, Villa at home, Oldham in the FA Cup, Swansea in the League Cup but I still think Rodgers has taken us forward."
The statistics make for interesting reading. On the day he was presented as Liverpool manager, Rodgers was quick to identify a key weakness - goals.
This season, goals have come at a rate not matched for almost 20 years. With eight games left of the league campaign, Liverpool's goal return is ahead of their tally in any season since 1995-6.
They are the second top scorers in the Premier League - the 57 goals they have scored in 30 games more than they amassed in 38 matches last season, eight more than they had scored at the same point in 2008-9 season when the club finished second to Manchester United.
Luis Suarez has been a vital part of that success, improving his chance conversion by 9% and almost doubling his goal return from 12 to 22. But 13 other players have also chipped in with goals. The stats don't tell the whole story, however.
Last season, only Barcelona had a greater proportion of their play in the final third than Liverpool - and yet the Reds were outscored by both Norwich City and the relegated Blackburn Rovers.
Rodgers' Liverpool are still getting the ball forward but are doing so more methodically. His way is the Liverpool way and vice versa, as it was with Kenny Dalglish, but the new manager has gradually improved the squad despite the wrangles in the August transfer window that left him fearing the worst.
"The shambles of the summer window set us back and that wasn't all about money, it was about a lack of complete trust in the manager from those above him," says Liverpool blogger Jim Boardman from the Anfield Road website.
Because mistakes were made in August, leading to the failure to land Clint Dempsey, Liverpool were altogether more clinical in January.
Daniel Sturridge, who Rodgers could have recruited in August, was signed immediately. Phillipe Coutinho, another long-term target, followed.
"The winter window was about getting players Rodgers was happy to use, who fitted his ideas," Boardman adds. "And what a difference that has made."
The presence of fit-again Lucas Leiva has been a key factor. Liverpool's scoring rate has doubled since he returned from injury to the side in December, his presence helping to free the likes of Steven Gerrard - who has scored seven goals in those 14 games.
But the Brazilian still sees hard work ahead. "It has been a hard season," Lucas told BBC Sport.
"We have been knocked out of the two cups and the Europa League and our league position is not the best.
"But we are starting to find consistency and hope in the final games that we can find it and take it into next season."
The second coming of Dalglish may have ended prematurely, but the owners would not stand for an eighth-place finish despite reaching two Wembley finals, winning one.
With eight games of the season remaining, Liverpool find themselves out of both cup competitions and one place below but many believe that is a simplistic view.
"It's easy to compare where we are in the league to where we ended up last season and say there hasn't been any progress but that's the wrong comparison to make," Boardman adds. "Progress is certainly being made but it's too early for pats on the back because there's still much to do. I think Rodgers is capable of doing it."
There is a sense within the city that Rodgers must be given time to see through his vision. This is, after all, year one of a long-term plan.
As promised, Rodgers has blooded young players and "rinsed everything" out of the likes of Jordan Henderson and Stewart Downing, both of whom the club attempted to sell in the summer.
"I am not a magician. But I can improve players, that is my work and I have confidence in that," Rodgers adds. "At the beginning of the season it was difficult because we were looking to put in a different way of working. I always had an inherent belief that the success would come. Over time that will grow."
Rodgers has worked closely with the club's new and expensively assembled scouting set up since the turn of the year, identifying targets, watching them, discussing how they might fit in. Next season expects to see more of "his type of player" in the side. Wherever Liverpool finish, the summer will be another crucial test for Rodgers and the owners' belief in him.
Targets include Swansea defender Ashley Williams and Newcastle's Hatem Ben Arfa, while the 19-year-old Partizan Belgrade forward Lazar Markovic, Christian Eriksen of Ajax and Feyenoord's Bruno Martins are being watched. But with Liverpool facing a fourth consecutive season without Champions League football, money must be carefully spent as Rodgers attempts to claw back ground.
The defence is a priority, with Rodgers unconvinced by Martin Skrtel, and Jamie Carragher set to retire, Liverpool must find a new defensive linchpin on which to build the foundations of a new side.
"The board have been outstanding," Rodgers told BBC Sport. "They have seen the progress even though the results may not have shown that. It gives me great hope.
"This season was always going to be a transition but we have made additions and hope to do likewise in the summer. If we can, then we will start to see more of my type [of player in the side] but we are already seeing the characteristics we want: control and domination but also a bit of steel."
Other areas of weakness have also been discussed. Rodgers wants Liverpool to become more effective in possession, more controlled, more creative.
But there is also a determination to ally that technical and tactical precision with the mental resilience and belief his players have lacked at times this season.
The work of Dr Steve Peters, one of the men credited with revolutionising British cycling, will come to the fore. Liverpool need only take a look down the East Lancs Road to see just how vital that aspect of the game has become under a manager who never believes he is beaten.
No-one is in danger of getting carried away in Liverpool. But while the lack of consistency is a source of frustration, there is a growing trust and belief in Rodgers. The man himself is aware of the burden of responsibility that comes with trying to emulate the ghosts of the past - Shankly, Paisley, Fagan, Dalglish. "This is a club that, if you have success, you are here for years," Rodgers said.
Talk of years, decades and eras must wait for now but the mood in the city is one of quiet optimism - no less, no more.