Doctor Who's Matt Smith says owners killing Blackburn Rovers
Last updated on .From the section Football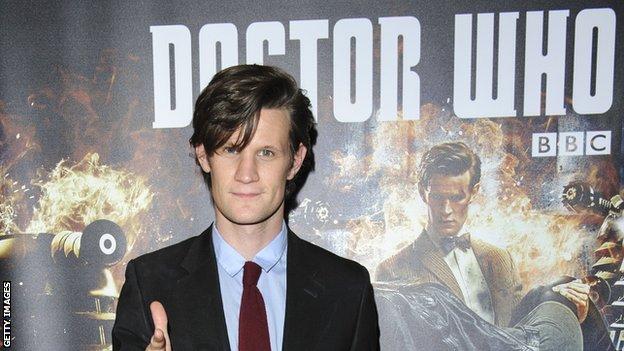 Doctor Who actor Matt Smith says he is "embarrassed" to be a fan of struggling Blackburn Rovers.
The Lancashire club are languishing in the Championship following relegation from the Premier League last season.
Smith told BBC Radio 5 live the side's FA Cup exit at the hands of Millwall in midweek was "woeful".
He said: "We're playing like a team without any verve or quality. Sort it out Shebby Singh, sort it out Venky's - we are not happy."
Smith, said he was not impressed with the way the club had been run since the takeover by the Rao family - owners of the Venky's brand - in November 2010.
At the time, Blackburn were 14th in the Premier League, two points above the relegation zone. The following month Sam Allardyce was sacked as manager and Steve Kean placed in charge with the club 13th and five points off the relegation zone.
Rovers only avoided relegation on the final day of the season and dropped to the Championship the following year after a season marked by increasingly vocal protests against the club's management by fans.
Highly regarded chief executive John Williams was one of the higher-profile departures from the club following the takeover and the more recent appointment of global advisor Shebby Singh had led to talk of a power struggle at Ewood Park.
Kean resigned in September 2012 and was replaced by former player Henning Berg but his reign lasted just 57 days.
Michael Appleton was appointed boss in January and enjoyed three successive victories in his early weeks. However recent results have been poor, despite an FA Cup win over Arsenal.
That victory will have seemed a long time ago for many of the 8,635 supporters who saw Blackburn dumped out of the cup while delivering what Appleton called a "disappointing" display.
And for Smith, it marked a low point in the recent history of the club: "It's an absolute farce, a joke, it's being run by complete numpties. Great players, great team, great club and those berks have ruined it," he told 5 live's Kicking Off programme.
"They talk about getting rid of Allardyce because of the long ball - what the hell was that against Millwall?
"It was a woeful performance against Millwall. It's the first time I've been embarrassed at the way the team played."
Blackburn's next game is against fierce rivals Burnley at Ewood Park on Sunday.