Raith game could be Dunfermline's last, fears Jim Jefferies

By Brian McLauchlin
BBC Scotland
Last updated on .From the section Football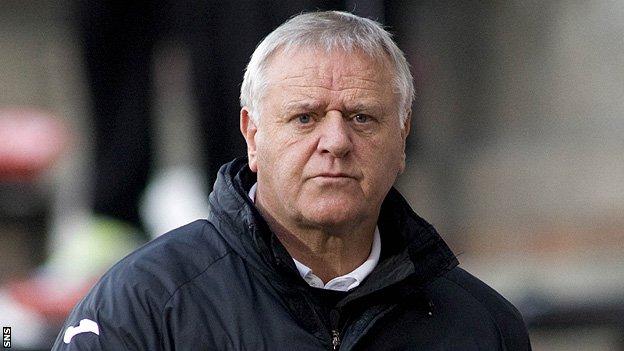 Dunfermline manager Jim Jefferies fears his team's First Division match away to Fife rivals Raith Rovers on Saturday could be the club's last.
Her Majesty's Revenue and Customs has issued a winding-up order to the Pars over unpaid bills of £134,000.
Asked about possible liquidation, the manager said: "It's a possibility if things are not sorted out next week and the Inland Revenue close us down."
And Jefferies added: "I hope that doesn't happen. I'm sure there are a lot of people working behind the scenes to try to avoid that.
"I know it's long odds. It's not good news for us but we just hope there is somebody else there ready to look at the situation and talk to Gavin.
"Until that happens we just try to go along day by day, trying to run a football club. We just have to shut our minds off and take each day as it comes.
"We'll keep our fingers crossed because it's a great club, great tradition, great supporters.
"I believe down the line there will still be a Dunfermline, whatever road it takes. It's a shame."
On top of the unpaid taxes, the Pars players and staff are waiting on the full payment of wages from last month and others bills are struggling to be met.
Fans group The Pars Community wanted to buy Masterton's shareholding for £500,000 and wished to see those who have lent money to the club write off more than 60% of its value.
But as it and the club traded announcements on Friday afternoon about the failure of a deal to be concluded, a scenario is emerging where the trip to Stark's Park on league business could be the last game the Pars play.
"There is still hope but time is running out," Jefferies told BBC Scotland.
"It's a pity but that's football nowadays. Two or three clubs have sailed close to the wind and one big one had to go and start again.
"It might be Dunfermline have to do the same."
While fretting over the future of the club, Jefferies is pained by his role in bringing a number of players to East End Park since he took over from Jim McIntyre last March.
"It has not been easy for these lads. I brought a lot of them here and they love playing here. It's been very frustrating," he said.
"The key to it was telling them it was going to be OK. But you can only say that so long. It went six months when we thought it would be resolved in two.
"We got off to a great start this season with a new team. The work that has been done might now be undone.
"Even if it survives, a lot of these players are probably looking at legal advice to move anyway.
"We had one player [Andy Geggan] who came in and he is struggling. He had been offered a job and who can blame him?
"It's a case of me arranging part-time training for him and he will come and play for us on a Saturday.
"Andy has been one of our top players this year. He loves the club. He is as sad as anybody. If he says that is what he wants to do, I would try my best to convince him to hang on in there but I would fully understand, I wouldn't hold it against him."