Carles Puyol: Barcelona captain sidelined after knee surgery
Last updated on .From the section Football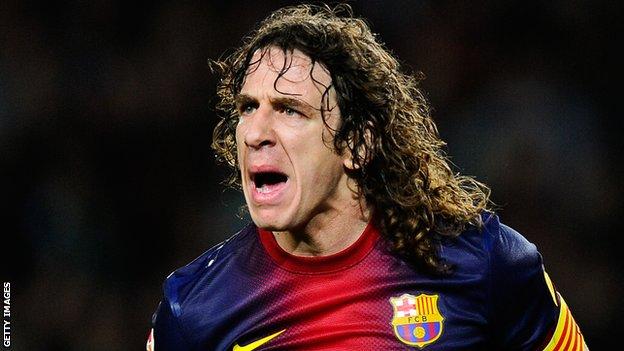 Barcelona captain Carles Puyol could miss the rest of the season following keyhole surgery on his right knee.
The 34-year-old defender needed an operation on the same knee for a similar problem last May.
Club doctor Ramon Cugat said: "He will set his own recovery time. It could be a month and a half or three months."
Puyol will definitely miss April's two-legged Champions League quarter-final against Paris St-Germain and Spain's upcoming World Cup qualifiers.
While he has been a key member of Barcelona's defence for the last 14 seasons, he has suffered a series of injuries over the last year.
Following surgery last May, he missed Spain's triumph at Euro 2012, and fractured his cheekbone in a La Liga game for his club in August.
Twisted ligaments in his left knee sidelined Puyol again in September, and he then dislocated his left elbow in October, limiting him to only 13 games in the current campaign.
Barca club surgeon Ricard Pruna added: "He has been carrying this problem since October. It hasn't gone away.
"He said he couldn't stand it any more and wanted to use the break for internationals to try and be in top shape for the end of the season.
"If he didn't do it now there was a risk it could get worse."