Glasgow City expecting toughest season yet
By Andrew Southwick
BBC Scotland
Last updated on .From the section Football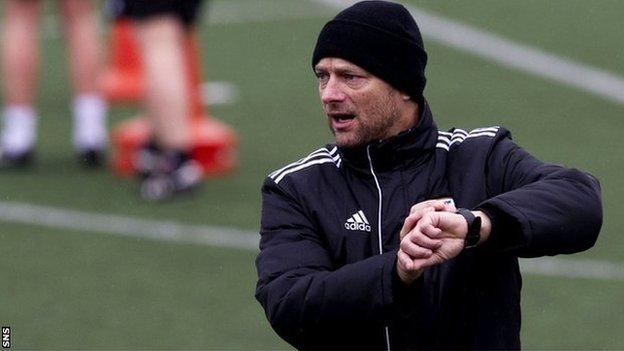 Glasgow City head coach Eddie Wolecki Black expects his sixth year in charge to be his toughest.
On Sunday they kick-off the defence of their Scottish Women's Premier League title against Rangers, with their dominance under threat.
"I think without a shadow of a doubt this is probably going to be the hardest one for us," said Black.
"On the back of the players we've lost, coupled with the injuries we've got, it's a tough ask for us."
Over the past year City have lost three of their star players to clubs from abroad who have been able to offer professional contracts. Lisa Evans and Emma Mitchell have moved to Germany, while Jane Ross has recently joined the Swedish league.
The former Montrose men's manager is happy to see his players move on and earn a living from the game, however it has made his task of getting City to the knock-out stages of the Champions League even more difficult.
Captain Rachel Corsie, Christie Murray, Emma Vernon and Lauren McMurchie all have long-term injuries, while Danny Pagliarulo will also miss the season opener.
Black said: "It's not just been big players that we've lost in terms of experience and quality, the ones that are injured are also big players. When you combine both, it's a tough ask for us.
"You can't top winning every game domestically, you can only match it. There's a big push this year for the Champions League, there's no doubt about that, and it is going to be tougher because of the quality we've lost.
"Do we have the quality to do it again? I think we do, but it means a lot of hard work and a lot of different formations, styles and systems to play this season to get ready for that, which is the first time we've done that.
"There's still a lot of quality here. Even though we've talked about that amount of players being out, there's still between eight and 10 internationals here.
"It's great [players in the international squad] because the more intense games you play at that level, the better. Your players improve, and they get asked tactical questions that maybe they don't get asked domestically as often."
The attraction of playing in the Champions League has helped Black bring in players, and Sarah Crilly, Lisa Robertson and Cheryl Gallagher have joined the club during the close season.
Robertson has moved to the west coast from Hibernian Ladies and has already noticed the increased tempo at training, which she feels will improve her as a player.
Suzanne Lappin has also returned to the club after two years playing in England for Liverpool and Chelsea, and the Scotland international is keen to make the most of her second spell.
She said: "I'm a lot older now than I was when I played here before, so I'm hoping to bring a bit more experience to the team, and do better as a player and hopefully be able to help my team-mates.
"It feels like we've been training for ever, so we're all really keen for the season kicking off on Sunday, and can't wait to get going."