Casey Stoney: Cyprus Cup win shows England strength

By Casey Stoney
England women's captain
Last updated on .From the section Women's Football
England and Lincoln Ladies captain Casey Stoney will be writing regular columns for the BBC website during the coming season.
Winning the Cyprus Cup with England last week was a huge confidence booster ahead of this summer's European Championship and it underlines my belief we have our strongest squad ever.
The last time we won the tournament in 2009, we went on to reach the European Championship final, and I believe this victory shows we are in a better position than four years ago.
By beating Canada 1-0 in the final it was also an opportunity to right a few wrongs after most of the team lost to them in the quarter-final of the Olympics while competing for Great Britain last summer.
I would love to tell you that the victory over Canada stemmed the hurt I felt after the 2012 Games, but I don't think that will ever happen.
If anything, the win has made it even more frustrating because you think 'what if we had done that back then?' Hindsight is a wonderful thing and tactically and physically we got it right. In the Olympics Canada bullied us, but that didn't happen this time.
I thought we were quite comfortable in the end and it was great to see some of the young players, like Arsenal midfielder Jordan Nobbs and Everton striker Toni Duggan, come in and show no fear.
We have a great blend of youth and experience in the squad and 33-year-old Rachel Yankey's winner was one of the goals of the tournament. From a personal point of view, it was great to see her prove that more experienced players can still get better with age!
Striker Kelly Smith has been a talisman for us over the years, understandably so, because she is one of the best players in the world. Yet the fact we achieved the victory over Canada without her shows that the future is bright for English football.
All of the squad were used over the course of the tournament and I learnt that no matter who comes on the pitch now, I can trust and rely on absolutely anybody.
Winning the Cyprus Cup is not the European Championship, it's not the World Cup and it's not the Olympics and I'm not going to pretend it is, but it has given us a big psychological lift in an important year.
Domestic season kicks off
Officially, the Women's Super League season starts this coming weekend when the eight teams match up in the Continental Cup (the equivalent of the League Cup in the men's game), but for me, the ball was rolling as soon as we kicked off against Chelsea in the FA Cup last Sunday.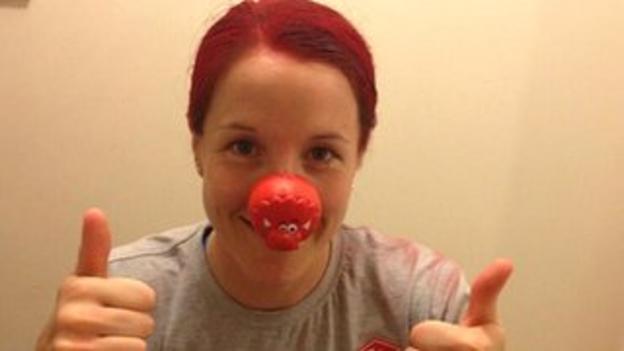 Fresh from dying and then rinsing out my red hair for Comic Relief on Friday, Lincoln managed to scrape through to the quarter-finals with a 1-0 win over fellow Super League team Chelsea.
The Super League has only been going two years, but I think it will be the best season yet because there has been some serious recruitment over the winter months and every team is stronger than last year.
Liverpool, for example, have pretty much signed a whole new team, and have captured England internationals and former Everton players Fara Williams and Natasha Dowie.
I know their manager Matt Beard from my time at Charlton and Chelsea, and he asked me if I was interested in joining the club but I declined and decided to stay at Lincoln. Liverpool are the league's unknown quantity but with that many new players, it might take time of them to gel.
Arsenal have won both Super League titles so far and will still be the team to catch when the league starts again on 14 April and it will be interesting to see who is going to compete with them.
By beating them in the cup and drawing with them in the league last year, we proved that they are not invincible.
Our league ambitions are more realistic. It's a bit of a transition phase for us and we will be looking for a top-four finish and a good cup run. We have some great players in our team and I think adding England keeper Karen Bardsley could prove to be one of the signings of the season. We just need to add some strength to our squad under our new manager Rick Passmoor.
My hope is that the league pans out like it did two years ago, when it went down to the final game between Arsenal and Birmingham. I don't want Arsenal to win it like last season when they scooped the title with two games left.
Key steps in the women's game
While we were away in Cyprus there have been some significant steps in the women's game and I was interested by Manchester City's decision to put a bid forward to join the expanded Super League in 2014.
The financial backing of the club will make a few teams wonder what is to unfold, and despite hearing a few whispers, it was disappointing that Manchester United did not join them, particularly as the red half of the city has a women's centre of excellence.
It is fantastic that the BBC has agreed to show more of the Women's Super League but you may have missed that from next season Super League players will be able to join the Professional Footballers' Association.
That is a massive step forward because the girls need the support. England players already have access to the PFA, but the other players don't have access to the medical care they might need and from my own experience the union has been very supportive during contract talks and awareness of future opportunities and education.
The last couple of weeks just highlight that it is an exciting time to be involved in women's football.
Casey Stoney was talking to BBC Sport's Alistair Magowan.